Most weeds can produce flowers that not only look attractive but also serve as excellent sources of nectar, pollen, and seeds for birds, insects, and other creatures. In fact, weeds with yellow flowers are more common than you think.
Weeds with yellow flowers include the Bird's Foot Trefoil, Black-eyed Susans, Common Evening Primrose, Creeping Cinquefoil, Dandelions, Golden Clover, Knotweed, Lesser Celandine, Marsh Yellowcress, Narrow-leaf Plantain, Purslane, and many more!
This article provides you with everything you need to know about weeds with yellow flowers, their physical attributes, and effective population control methods. Read further this article for more!
28 Weeds With Yellow Flowers
Bird's Foot Trefoil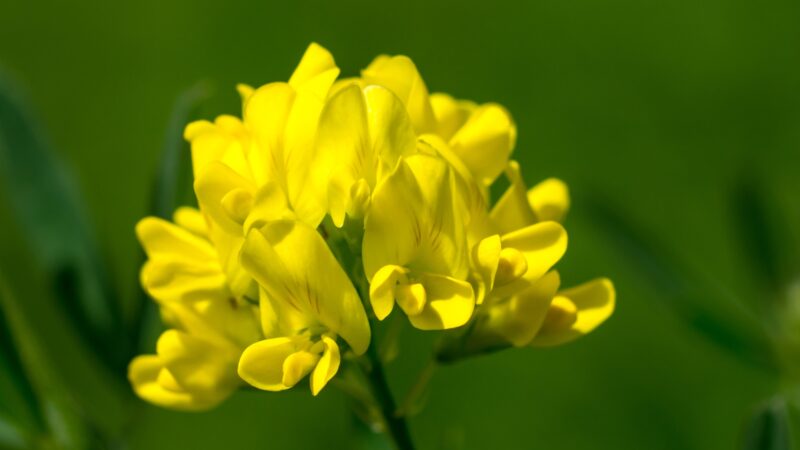 Found in open areas and prairies, Bird's Foot Trefoil (Lotus corniculatus) is a herbaceous perennial forb that grows up to 24 inches in height. It has deep roots, hairless stems, compound leaves, yellow pea-like flowers that bloom throughout most of the summer season, and brown-black seed pods.
What It Does: This plant is highly invasive and can form dense mats which can choke or shade out desirable vegetation.
Control Method:
Produce a dense turf that can be competitive against weeds. This can be achieved by proper mowing, irrigation, and fertilization.
Hand-pulling or cultivation can provide adequate management if the infestation is small. Remove below-ground tissue to prevent any potential regrowth.
Using nonselective and selective post-emergence herbicides, preferably containing dicamba, 2,4-D, and MCPP works effectively.
Black Medic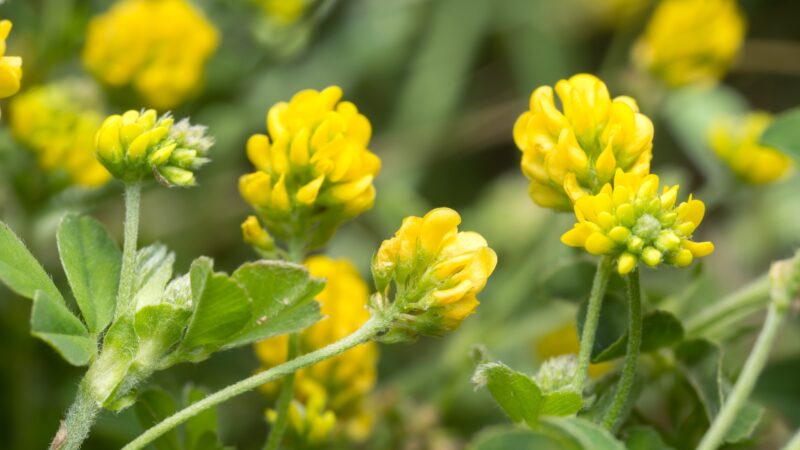 A common broadleaf weed that is widely distributed across the US and Southern Canada, Black Medic (Medicago lupulina) is often found along roadsides and railroads as well as in sunny areas on turf grounds. It has trailing slightly hair stems, dark green clover-like leaves, small bright yellow flowers, and fruits that are arranged in clusters, resembling small kidneys.
What It Does: When left untreated, it can grow up to 2 feet in height. It spreads by seed and can form large colonies.
Control Method:
Small infestations can be hand-pulled if the soil is moist enough. Rototilling or hoeing can also work. Avoid mowing since the plant usually grows low.
Spot treatments using glyphosate or broadcast treatments of broadleaf lawn herbicides that contain triclopyr, 2,4-D, or dicamba are effective if applied in the early spring or fall seasons when the plant is young but actively growing.
To prevent the emergence of these weeds, maintain a healthy environment for your plants by ensuring proper irrigation and fertilization.
Black-Eyed Susans
Black-eyed Susan (Rudbeckia hirta) is an upright, moderately fast-growing biennial or short-lived perennial that can reach a height of up to 4 feet. It is usually found along roadsides and banks. It has alternate, toothed leaves, slender stems, and bright yellow flowers which bloom in the middle of the summer.
What It Does: Although they are generally non-invasive, they can still spread and compete with desirable plants. Once they mature, they have rhizomatous root systems, which make them difficult to control.
Control Method:
Using broad-spectrum herbicides works best. Do so by using a paint brush to absorb the product and then apply it to the roots.
Digging the weeds up is also possible. However, you must ensure that none of its roots are left behind, or else new growth will occur.
Buttercup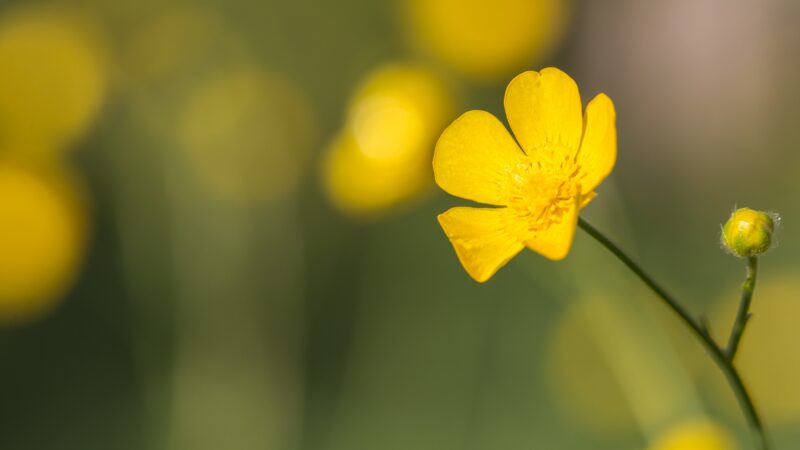 Often considered a sign that spring has arrived, Buttercups (Ranunculus spp.) are cool-season weeds that are seen in pastures and hay fields with poor distribution of desirable plants, as well as occasionally invading gardens and lawns. They are characterized by their yellow, cup-shaped flowers that glisten against the sun.
What It Does: This plant is toxic to animals, particularly horses, due to the presence of toxins in its parts when chewed. It also grows and spreads aggressively, making it difficult to control.
Control Method:
When planting, choose grasses that can grow and establish quickly so that they can become competitive against weeds. Maintaining proper pH soil levels and incorporating lime and fertilizer can encourage desirable plant growth.
Mowing or clipping plants can reduce the emergence of new seeds.
Herbicides can be used for severe infestations. Applications should be done in the early spring before flowers have bloomed.
Butterweed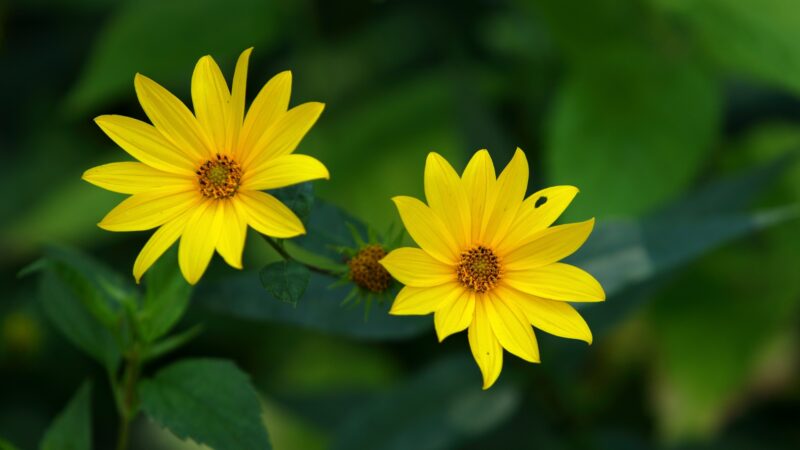 A winter annual that emerges as early as November, Butterweed (Packera glabella) has deeply lobed leaves, elongated flowering stalks that are streaked with purple or red, bright yellow daisy-like flowers, and hollow, succulent stems. It can grow up to 20 inches tall and is often seen along roadsides and landscapes.
What It Does: This weed is toxic to horses and cattle as it causes photosensitivity and liver disease. Ingesting it can cause death. It is extremely invasive as it can fill up an entire area thoroughly, especially in no-till areas.
Control Method:
Fall or spring applications of herbicides that contain glyphosate can provide good control for its population. When the weed's rosette is at its growth stage, using 2,4-D is effective.
Hand-pulling or cultivation using a dandelion fork can be done for small infestations.
Canada Goldenrod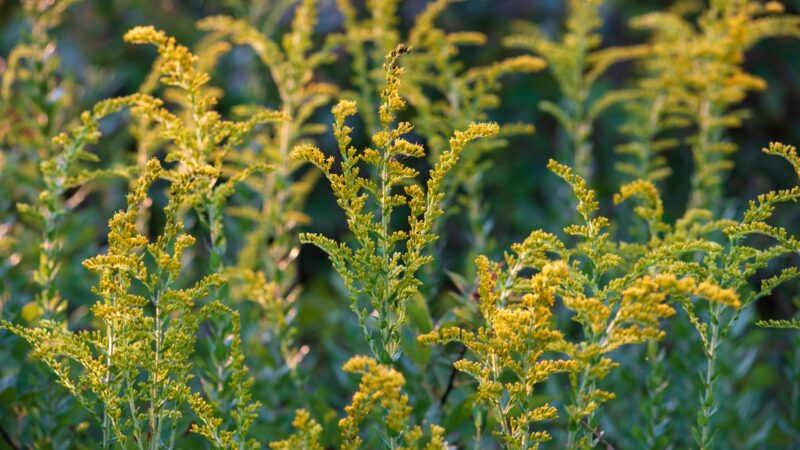 Characterized by its pyramid-shaped, cascading clusters of yellow flowers that bloom in the late summer until fall seasons, the Canada Goldenrod Solidago canadensis) is a perennial plant that is widely distributed. It also has lanceolate, toothed leaves, and hairy stems. It can be found along roadsides, in fields, and in waste places.
What It Does: Although this plant is an excellent source of nectar for bees and other pollinators, it produces deep root systems that are difficult to control once established. It also has an aggressive nature.
Control Method:
Small infestations can be hand-pulled as long as there is a thorough removal of their roots. Using a sharp hand shovel such as a hori-hori or soil knife can work. For larger infestations, regular mowing can wipe out an entire colony.
Herbicides containing glyphosate can be applied to the foliage, but desirable plants can be affected. A broadleaf-specific herbicide can be used to reduce the risk of injuring native plants.
Common Evening Primrose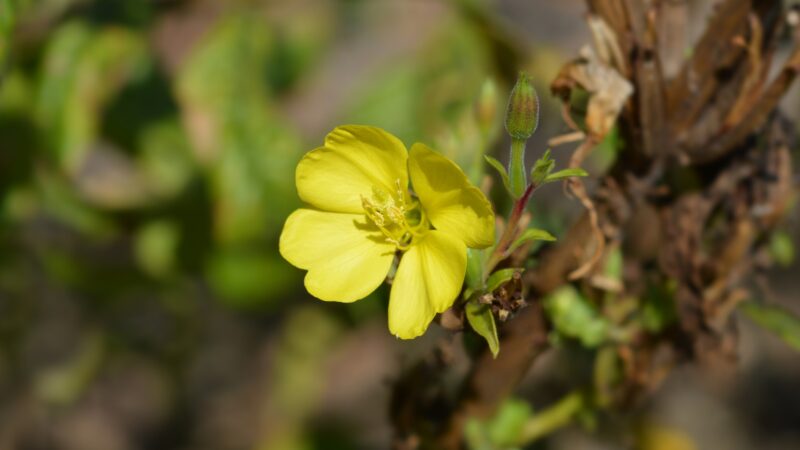 Common Evening Primrose (Oenothera biennis) is an upright, mid-season growing biennial that grows in glades, fields, thickets, prairies, along roadsides, and in other disturbed sites. It is a drought-tolerant plant that is fertilized by night-flying moths, which are attracted to the mild lemon scent its yellow, four-petaled flowers have.
What It Does: Although this plant is not strictly a weed, as it can simply be considered a wildflower, it spreads extremely well due to its seeds, making it a potentially invasive plant. It is also competitive with vegetable crops and can serve as a host for plant pests and diseases.
Control Method:
Applications of post-emergent, systemic or contact herbicides can work, particularly products that contain diquat, paraquat, or carfentrazone as active ingredients. Heavy infestations will require repeated applications.
Pre-emergent herbicides can also be used when the weed's stand is minimal or low.
Common Ragwort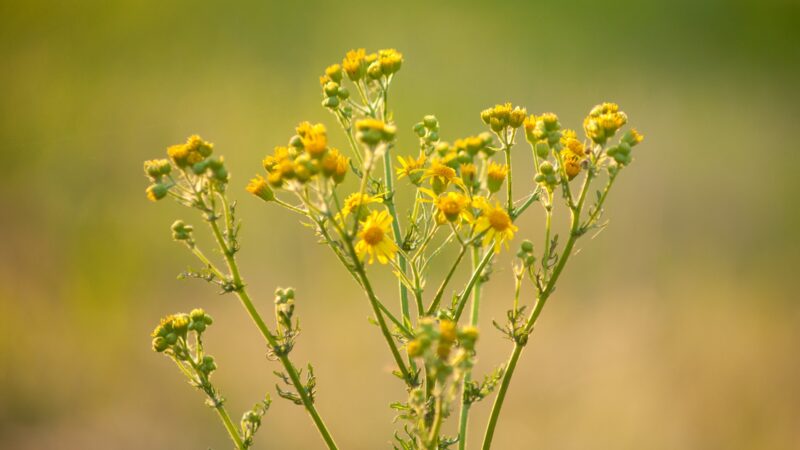 Common Ragwort (Senecio jacobaea) has an erect or slightly spreading stem that may be branched, dark green ruffled-looking leaves with whitish-green undersides, bright yellow daisy-like flowers, and coarse, light-colored roots. Often confused with the Common Tansy, this plant is found in areas that are newly disturbed, such as heavily-grazed pastures and roadsides.
What It Does: This is a noxious weed that has poisonous alkaloids that are toxic to livestock and humans. It can displace forage plants due to its extremely aggressive growth.
Control Method:
Dig up the entire plant, including its roots. Discard any flower stalks, buds, and stems. Tilling your lawn is effective, especially if it is large.
Reseeding areas with fast-growing grasses can foster competition and reduce the emergency of ragwort seeds.
Herbicide treatments can help control larger-sized infestations. It is often done by spraying on the plant's rosettes in the spring and fall seasons using a systemic, selective herbicide.
Common St. John's-Wort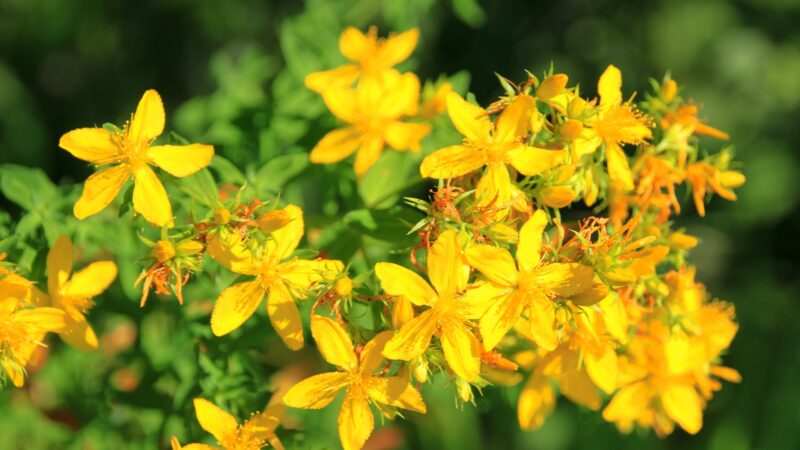 A perennial flowering plant that grows up to 3 feet tall, the Common St. John's-Wort (Hypericum perforatum) is characterized by five-petaled yellow flowers that are spotted with black on their edges and small, elliptical, light green leaves with translucent spots. It is commonly found in hedge banks, open woods, waste places, roadsides, and dry, sunny places.
What It Does: This plant is used to treat depression that is categorized as mild or moderate, as well as muscle pain, injuries, and first-degree burns. However, it has detrimental effects, such as photosensitivity and dermatitis, on animals that eat it, and is an invasive plant.
Control Method:
Established plants can be best treated with fall applications of herbicides. You can simply perform spot spraying instead of a broadcast treatment as long as you follow up with a foliar application in the early spring.
Introducing St. John's Wort Mite is an effective biological control.
Creeping Cinquefoil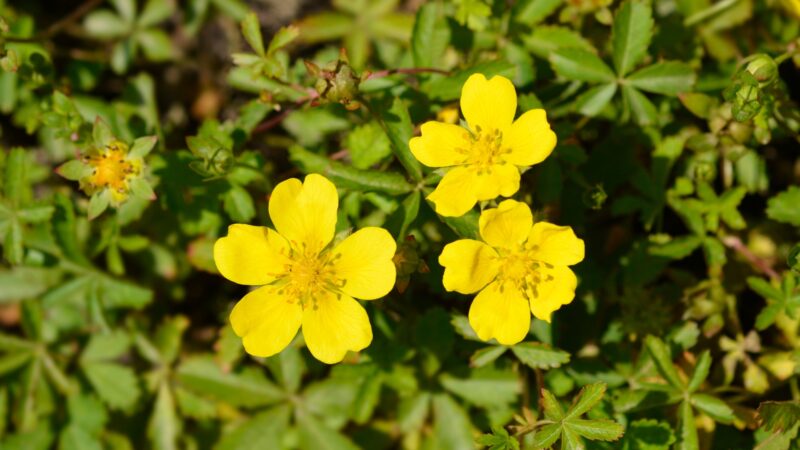 True to its name, the Creeping Cinquefoil (Potentilla reptans) is a trailing perennial with palmate or strawberry-like leaves, solitary yellow flowers that bloom from June to September, and long blackish taproots. It can be seen in cultivated borders and beds, lawns, hedge banks, grasslands, and roadsides. It serves as a good source of pollen for bees and other insects.
What It Does: Can get invasive since it produces up to 15 runners per plant and can grow deep taproots. In a single growing season, they can colonize up to 107 square feet of space.
Control Method:
Proper cultivation and garden hygiene can prevent the growth of these weeds. Hand-pulling or using weeding forks can work as long as the main taproot has been removed completely.
Lawn weedkillers that are applied every 4 to 6 weeks during the spring and early summer seasons can control weed growth. Systemic, non-selective herbicides can also work for cultivated borders and beds during the middle of summer.
Cypress Spurge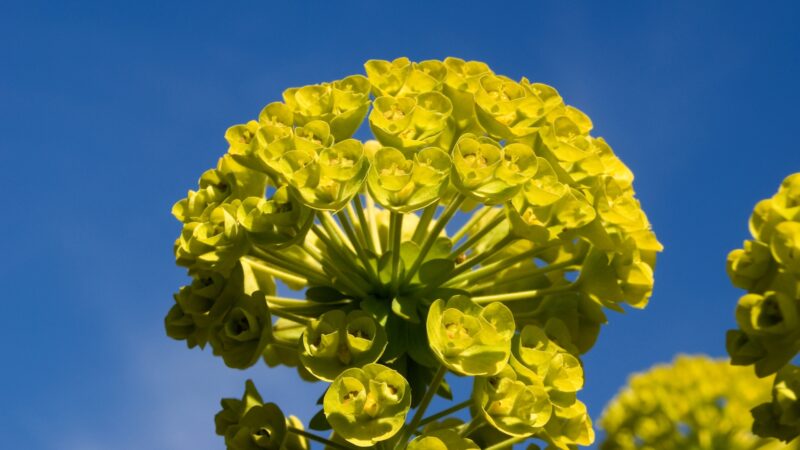 This herbaceous perennial herb is characterized by narrow leaves, erect stems, and yellow cup-shaped flowers that have crescent-shaped glands. Once mature, the Cypress Spurge (Euphorbia cyparissias) resembles a cypress tree. It grows in poor conditions, is drought-tolerant, and is often found on hillsides and dry banks.
What It Does: This plant is quite invasive and extremely aggressive, able to form a dense ground cover. Its leaves and stems produce a milky latex sap that is toxic to the eyes and skin. Additionally, it has an extensive underground root system.
Control Method:
Maintaining the vigorous growth of turfgrasses allows them to be more competitive against weeds.
Fall application of herbicides can work if no true flowers have emerged from the plant yet. Adding liquid nitrogen fertilizer solution to the herbicides can increase the effectiveness of weed control, but it may injure desirable grasses.
Goats and sheep can be used to control the growth of this plant.
Dandelions
A widely distributed broadleaf weed, especially in turfs, mountain meadows, and perennial crop fields, Dandelions (Taraxacum officinale) has no visible stems, sparsely hairy or hairless leaves, bright yellow ray-like flowers that bloom nearly all year round in areas with mild climates, and tiny brown fruits. They are sometimes added to pasture forage for livestock.
What It Does: Competes for space, moisture, and nutrients in no-till systems and forage crops. It also can clog cultivation equipment due to the fine hairs of its fruit. Additionally, it produces a deep taproot, making it difficult to control them mechanically.
Control Method:
Tilling the dandelion taproots by uprooting, chopping, then burying them can help control the weed. The tillage should be able to cut roots 4 inches below the crown.
Rotary hoeing and cultivation can work for seedlings but have little to no effect on established plants. Crop rotation and planting early in the spring can reduce the emergence of dandelion seedlings.
Fall applications of herbicides are effective for perennial dandelions, while spring applications can control the emergence of dandelion seedlings.
Related: What Are the Best Dandelion Removal Tools and Weed Pullers? | Review and Guide
Garden Loosestrife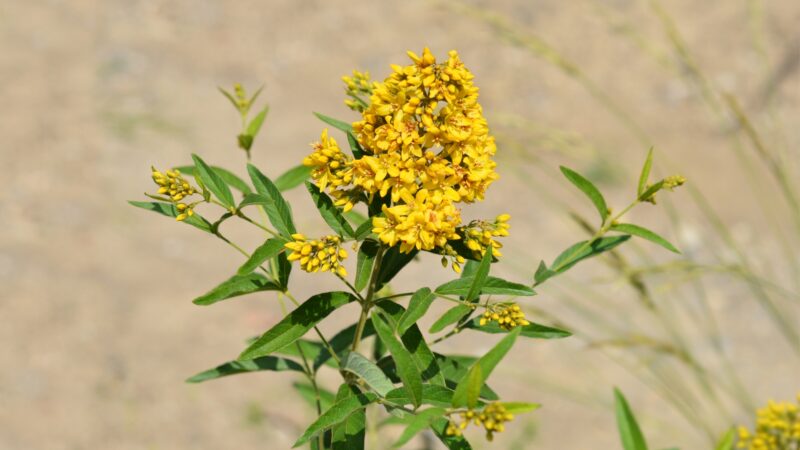 Garden Loosestrife (Lysimachia vulgaris) is characterized by having long rhizomes, lanceolate and hairy leaves, erect stems that are slightly dotted with blackish or reddish spots, five-petaled yellow flowers, and small-capsuled fruits. It is distinguished from other related species by its red-margined calyx. This plant grows in floodplain forests, wet meadows, riverbanks, and fens.
What It Does: Grows aggressively and has extensive rhizomes that can reach up to 10 meters. It can clog small streams, dominate wet pastures, and disrupt the ecology of wetland habitats.
Control Method:
Hand-pulling works best for small infestations, but the roots should be dug out thoroughly. Repeated mowing can also keep your garden contained and slow the dispersal of seeds, as long as there are no roots left behind.
Placing weed fabric or a tarp over the weeds can work as long as careful monitoring is observed.
Systemic, aquatic-approved herbicides can target the plant's rhizomes. Products with imazapyr work best compared to other active ingredients.
Golden Clover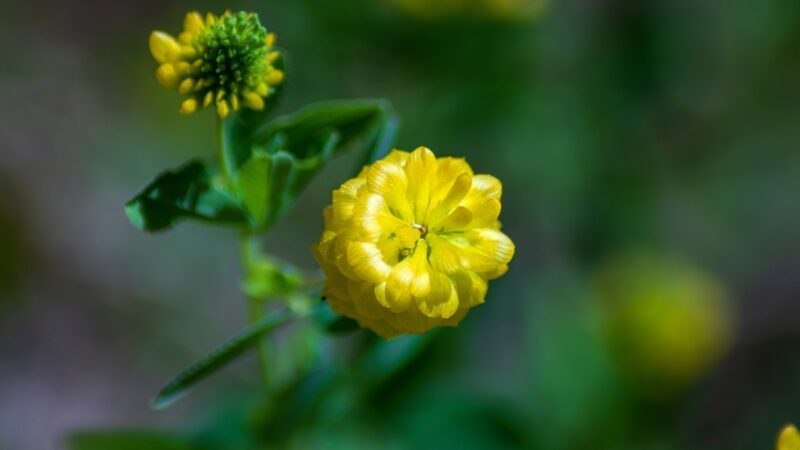 Growing up to a height of 20 inches, the Golden Clover (Trifolium aureum) is a tall, erect forb with multiple branches, hairy and ascending or erect stems, stalked leaves, a legume, and yellow flowers that bloom between May to September. It is commonly found in meadows, grasslands, valleys, roadsides, fields, and other disturbed sites.
What It Does: Despite being grown as a pasture crop in the 19th century, this plant is considered a weed, although it is not aggressive nor invasive.
Control Method:
Maintain a dense, vigorous turf to reduce the number of weeds that grow. Do so by properly fertilizing, mowing, and watering your turfgrass to encourage optimum growth.
Pre-emergent herbicides and tillage work when the plant has not flowered yet, specifically during the fall or early spring season.
For flowered weeds, hand weeding and contact-type herbicides are ideal options for small infestations.
Knotweed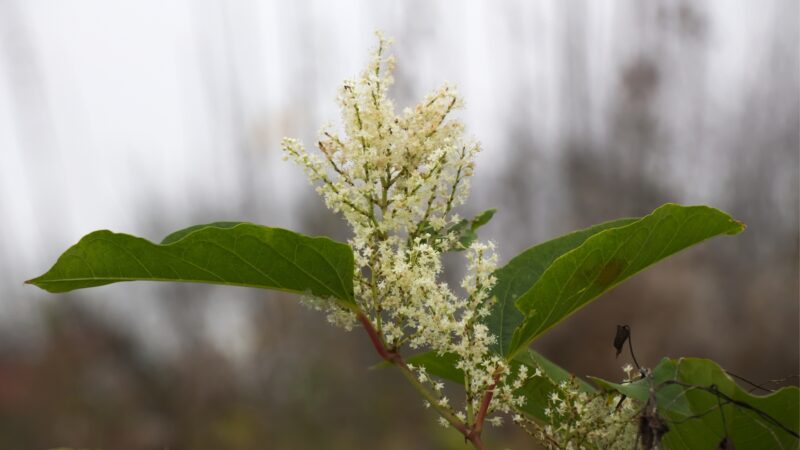 Knotweed (Fallopia japonica) is a perennial belonging to the buckwheat family and originated from East Asia. It infiltrates steam corridors, wetlands, drainage ditches, and forest edges, growing up to 11 feet in height. It has superficial systems that resemble bamboo with a spade or heart-shaped leaves, and five-petal, aromatic flower clusters.
What It Does: This plant is an invasive, aggressively-growing weed that forms large and dense clumps that can reach up to 9 feet in height if left untreated. It can crowd out native plants by producing pure stands.
Control Method:
Cutting the stalks or digging out the rhizomes can work, but it is a labor-intensive control method. Unless you have the time and patience to do so, it is not the most recommended.
The use of herbicides that contain glyphosate and triclopyr effectively eliminates these weeds when they are applied during the fall season. Apply together with a nonionic surfactant so that the herbicide can penetrate deep into plant material.
Lesser Celandine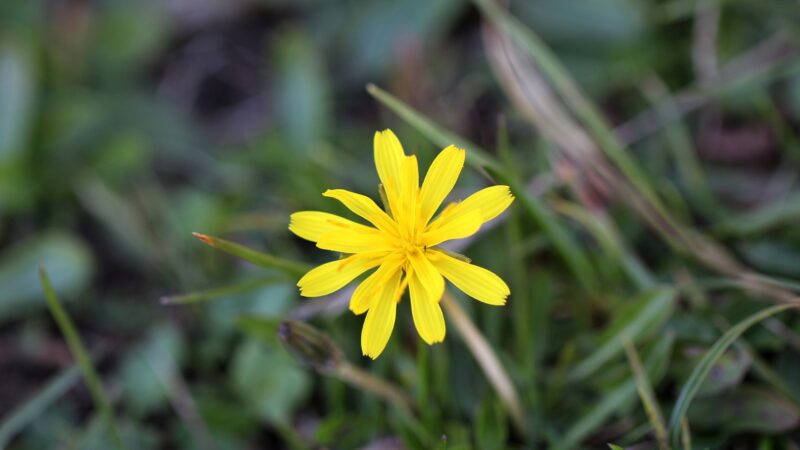 Also known as the Fig Buttercup, Lesser Celandine (Ficaria verna) is a herbaceous perennial plant often found in moist, wooded floodplains and near forest fringe areas. It is often mistaken for marsh marigold, which lacks tubers. It grows up to 9 inches in height and has dark green, kidney-shaped leaves and bright yellow flowers that become dormant in the summer season.
What It Does: It is a highly invasive weed that prevents the survival of native ephemeral plants such as wild ginger and bloodroot. It forms dense, mat-like canopies due to its thick root systems.
Control Method:
Digging can be a successful method when controlling a small population, but the removal of bulblets and other plant material is required to prevent regrowth.
Chemical control through the use of a non-selective herbicide that contains glyphosate can also be used early in the growing season. Use products that are specially formulated for wetland areas.
Marsh Yellowcress
Marsh Yellowcress (Rorippa palustris) grows as a winter annual, biennial, or, in rare situations, a short-lived perennial with aggressive and creeping roots, variably-shaped leaves that become more lobed as the plant ages, branched or unbranched stems, small light yellow flowers with four petals, and small, globe or cylindrical-shaped fruits with tan-colored seeds.
What It Does: This weed is a problem in small fruit, vegetable, and nursery crops. It can also grow in a wide variety of environmental conditions and germinate early in the fall or spring season.
Control Method:
Cutting, pulling, or grazing them is possible, but they may regrow from root, stem, or rhizome fragments.
Herbicides with glyphosate, triclopyr, or 2, 4-D as active ingredients can successfully treat these weeds. Broad spectrum, systemic herbicides, specifically provide the best results despite acting slower than contact herbicides.
Narrow-Leaf Plantain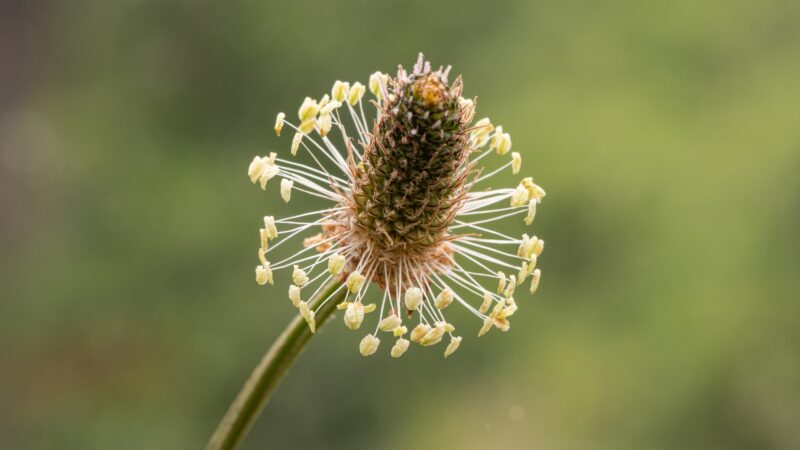 Often found in cultivated pastures, land, and lawns, the Narrow-leaf Plantain (Plantago lanceolata) is a common edible weed characterized by narrow and grasslike leaves, long and leafless stalks, cylinder-shaped flower spikes, and inconspicuous single flowers. It is a hermaphroditic plant that can be pollinated by flies, wind, and beetles.
What It Does: Despite being used in cough syrup, Narrow-leaf Plantain is a host for rosy apple aphids, which can reduce crop yields. It may form dense clumps in turfgrass which can damage golf courses and athletic fields.
Control Method:
Remove and dispose of any new seedlings or mature plants that have not yet been seeded. Repeated removal of these plants is the most successful method.
For turfgrass areas, employ proper management practices such as appropriate irrigation, thatch reduction, and mowing to control the weed population.
Preemergence herbicides can control seedlings of the narrow-leaf plantain, while post-emergence herbicides can work for more mature plants.
Purslane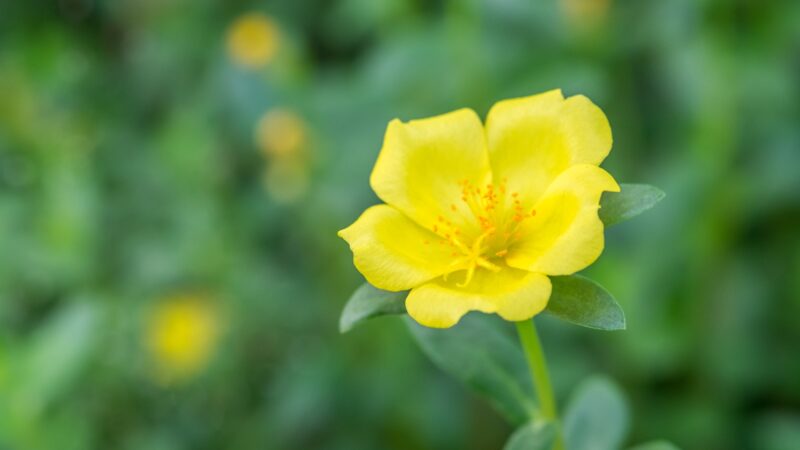 This mat-forming summer annual produces oblong and spatula-shaped hairless leaves that are tinted with maroon on their undersides, yellow star-shaped flowers that are small and with five petals, egg-shaped fruit, and green or purplish red stems. Purslane (Portulaca oleracea) is found in cultivated fields, flower beds, roadsides, and other waste or disturbed places.
What It Does: Although purslane is a highly nutritious plant with antioxidant properties, it is a weedy plant that reproduces tiny seeds that can survive in the soil for up to decades, which may become a problem in rotational cropping systems.
Control Method:
Pulling the entire plant out and then flaming or composting it can be a fast solution but will not fully prevent the plant from growing.
Mulches such as straw, newspaper, or black plastic can be used for backyard gardens.
Pre-emergent herbicides and selective herbicides can control the weed when it is in its early growth stages.
Skeletonweed
Originating from Europe and Asia, the Skeletonweed (Chondrilla juncea) is a perennial that can reach up to 4 feet in height at maturity. It grows slender, smooth stems, alternate leaves that are inconspicuous, and scattered yellow flower heads that bloom from July until the first frost. This plant infiltrates disturbed lands, waste areas, and roadsides.
What It Does: Once established, this plant can significantly decrease yields by up to 70%. It is an aggressive grower with stems that can hamper tillage and harvest operations due to its milky juice and high fiber content. It is difficult to control as it produces 1,500 flowerheads and 15,000 seeds annually.
Control Method:
Cutting or pulling out isolated plants before flowering can prevent them from spreading. If flowering has already occurred, burn the plants.
Repeated mowing is an effective control method when flowering has not yet occurred. Afterwards, tilling and/or cultivation is necessary to wear down its root system.
Early spring applications of herbicides to young leaves can also work.
Biological control through the use of insects such as gall mites and gall midge can control the growth of this weed.
Spanish Broom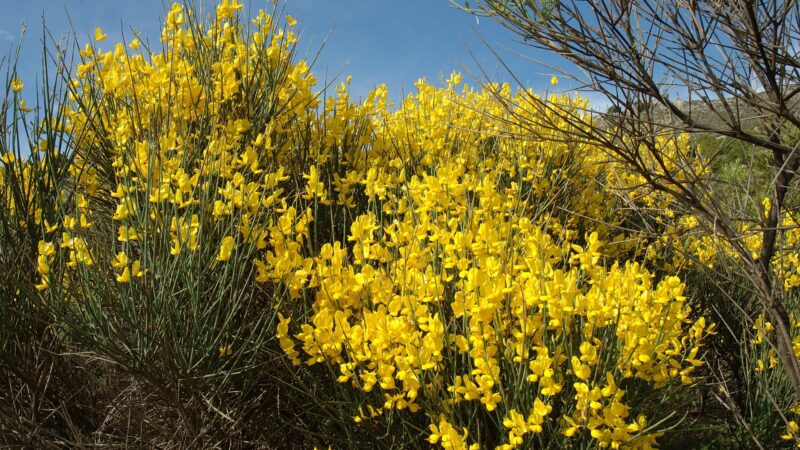 Spanish Broom (Spartium junceum) is a fast-growing, deciduous shrub that grows up to 15 feet tall. It is characterized by long, slender, and smooth stems with a few branches and small, oval-shaped, smooth-margined leaves. It also produces large, yellow, pea-like flowers and slightly flattened, dark brown seed pods.
What It Does: Spanish Broom forms dense, impenetrable, and inedible dense stands, which can compete with other desirable plants for nutrients. It also creates an accumulation of woody plant material, which makes it a fire hazard.
Control Method:
Hand weeding can remove young seedlings and small-sized shrubs. For larger shrubs, weed extractors should be used. Make sure to extract the entire root, or regrowth may occur.
Burn the plants, then follow with a herbicide application, replanting of desirable species, or grazing by goats confined in a small area to prevent regrowth.
Introducing seed beetles can be an effective biological control agent.
Wild Parsnip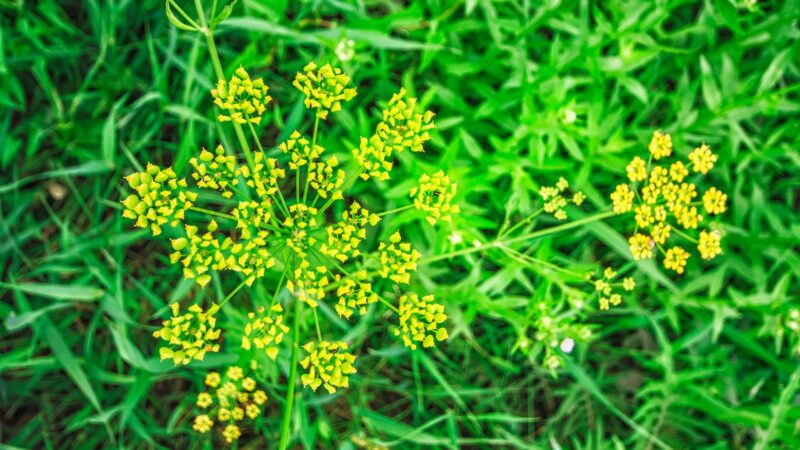 Growing up to 5 feet tall, Wild Parsnip (Pastinaca sativa) is commonly found along roadsides, in fields, and wet pastures. It grows a tall and hairy stem, coarse and saw tooth-edged leaves and yellow umbrella-shaped leaves. It was introduced to North America as a food source and to grow as a root vegetable. However, it has since been widespread throughout the US.
What It Does: This plant can cause sunburn in people and animals that ingest or come into contact with them after being exposed to sunlight. It grows aggressively and produces a long, thick taproot, which makes it fairly difficult to remove.
Control Method:
Selective broadleaf herbicides followed by mowing can help control its population, but you would need several applications.
For larger wild parsnips, remove them by hand. Make sure you wear protective gloves and clothing to avoid blistering.
Wild Radish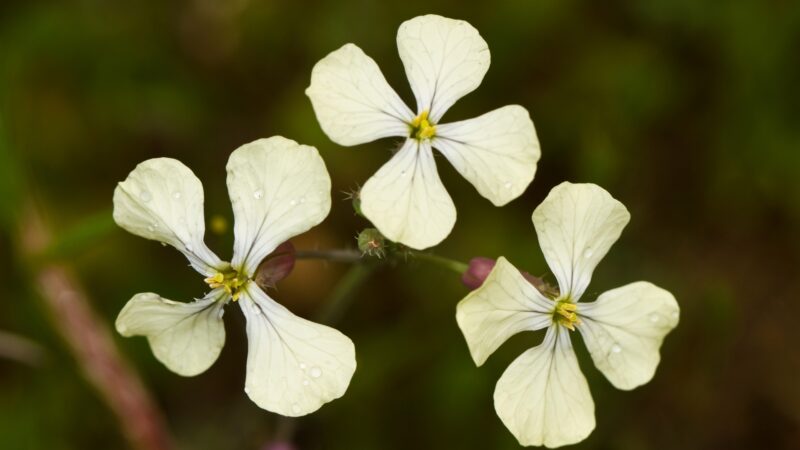 Wild radish (Raphanus raphanistrum) emerges primarily in the fall and winter seasons growing in almost any soil type but prefers acidic and nutrient-rich sandy soils. It has alternate, tooth-edged leaves with long stems and stiff hairs. It also produces light yellow, four-petal flowers with hairy sepals and purple veins. These flowers can also be pink or purple in color.
What It Does: This plant is a competitive weed that grows in vegetable fields and field crops. It is a serious widespread nuisance in corn, peanut, and winter vegetables and can attract crop pests.
Control Method:
Regular mowing can reduce the production of seeds but will not eliminate their growth.
Using growth regulator herbicides can effectively control the population of wild radishes as long as it is properly applied.
Preventive measures should be put into place by sowing winter pastures and maintaining a dense pasture (e.g. ensuring soil fertility and proper grazing).
Wintercress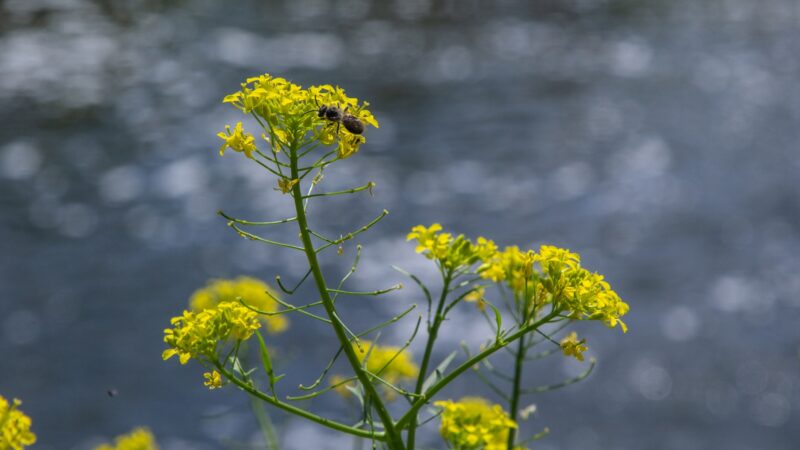 A short-lived perennial or biennial flowering herb, the Wintercress (Barbarea orthoceras) can be found in its natural habitat at swamps, steam banks, wetlands, forests, and riparian areas. It grows slender, erect green seed pods, eighty-inch long leaves, narrow fruits, and bright golden yellow flowers. Its leaves can be eaten raw or cooked but in moderation.
What It Does: Wintercress occasionally forms colonies since it reseeds itself and grows a stout taproot, making it fairly hard to remove. Although not toxic to grazing animals, it will reduce the quality of hay and pasture.
Control Method:
Application of herbicide during the spring season when the weed is actively growing.
Perform regular mowing as a preventive measure.
Yellow Nutsedge
Yellow Nutsedge (Cyperus esculentus) has a hairless, erect stem with thick, stiff, and light green leaves that resemble grass and have pointed tips. It produces straw-colored to golden-brown spikelets that have multiple flowers and tiny, football-shaped fruits. This perennial weed reproduces by tubers that grow from creeping, underground stems.
What It Does: This plant is incredibly difficult to control and is one of the most noxious weeds that grow in both temperate and tropical areas. It forms dense colonies and can cause a significant decline in crop yields. Once established, they are quite persistent.
Control Method:
Incorporating woven polypropylene weed mats into desirable crops can suppress the growth of the weeds. It can be used with organic mulch material such as wood chips, pine bark, or pine straw.
Hand weeding can also be done as long as both the shoots and tubers are removed properly.
Pre-emergence and post-emergence herbicides can also be used.
Yellow Rocket
A winter annual or biennial that is often found in small grainlands, pastures, nursery crops, and landscapes, the Yellow Rocket (Barbarea vulgaris) is characterized by glossy, thick, dark green rosette leaves with a heart-shaped base and toothed edges. It produces bright yellow flowers, four-sided fruits, and long stems.
What It Does: This weed is a fall-emerging species, which means it can become a nuisance to crops that were seeded during the fall, such as alfalfa or overwintering grains. Its fruiting stalks can remain all summer if they are not mowed. Additionally, livestock that heavily grazes on this plant can acquire digestive irritation.
Control Method:
Fall and early winter are the best times to manage these weeds by uprooting them.
When they have already been established, post-emergent herbicides that have either of the following ingredients can be used: glyphosate, diquat, 2,4-D + MCPP + dicamba, or flumioxazin.
Yellow Salsify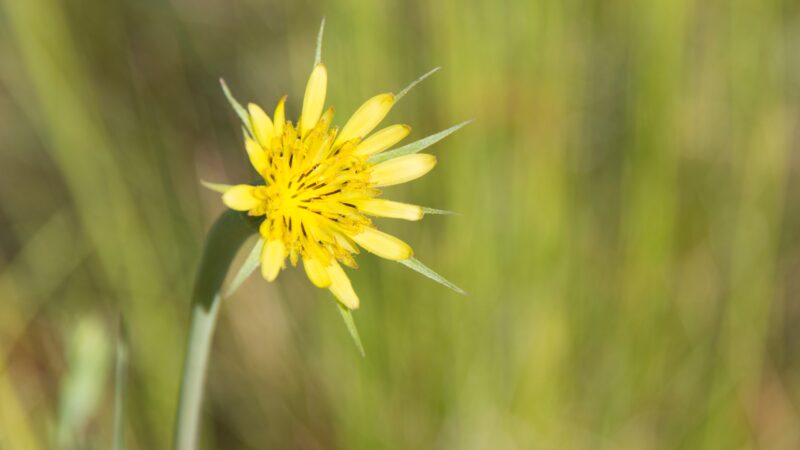 Frequently seen in roadside ditches, weedy meadows, abandoned agricultural fields, pastures, and vacant lots, the Yellow Salsify (Tragopogon dubius) produces 1 to 3 feet tall flowering stems, daisy-like yellow flowers that bloom in late spring through mid-summer, and pale green leaves with pointed tips and smooth edges.
What It Does: Although this weed is common in disturbed areas, it is not aggressive nor does it have any significant impacts on plants and other native vegetation. Additionally, it is rarely abundant, and when they are present in a specific site, it does not occupy much cover.
Control Method:
Hand weeding or carefully digging to get the weed out. This should be done with caution as undesirable weed seeds may still be carried to the surface.
Cultivation by hoeing or rototilling can eliminate the plant effectively.
Herbicides, specifically products containing glyphosate when used in landscape and bare ground areas.
Yellow Sorrel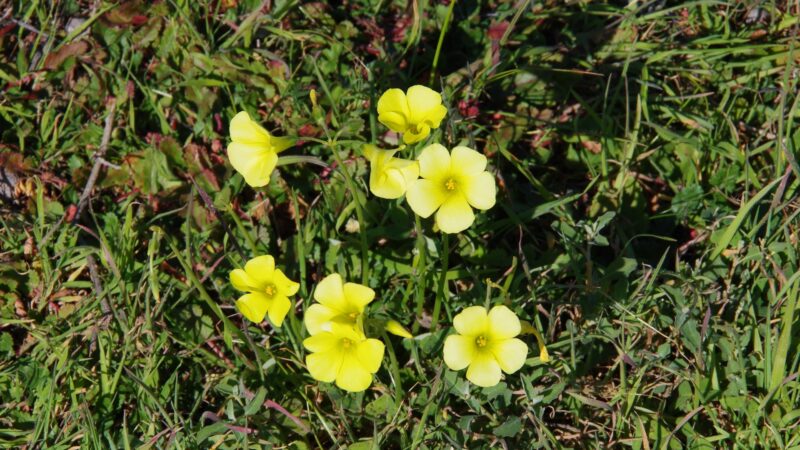 A common weed in the eastern US, the Yellow Sorrel (Oxalis stricta) is an erect weed with stems growing at a 90º angle from its main stem and seed pods that bend upward sharply on its stalks. It also produces heart-shaped leaflets, five-petal yellow flowers, and fruits. This plant is commonly found in woods, fields, borders, roadsides, and even in the cracks of sidewalks.
What It Does: This plant is considered a germinating annual weed that can grow 6 to 15 inches tall and form colonies with tough stems. Although its leaves, flowers, and fruits are edible, it can be toxic to people with kidney diseases, arthritis, or gout when consumed in excess,
Control Method:
Hand weeding and mulching is the best method as the weeds can be rid of easily and will not resprout from any roots left behind.
Pre-emergence herbicides can work if you identify the weeds immediately. Other herbicides won't be as effective.
List of Sources
Birdsfoot trefoil – https://extension.umn.edu/identify-invasive-species/birdsfoot-trefoil
Butterweed / Cressleaf Groundsel: Beauty is in the Eye of the Beholder
Marsh Yellowcress – https://blogs.cornell.edu/weedid/marsh-yellowcress/