Traditionally, many crepe myrtle trees were topped, leaving large stems and branch stubs. This method has been dubbed "crape murder" because it adversely impacts the health, structural integrity, and appearance of the tree. This is why it's important to know how to properly prune your crepe myrtle!
To prune a crepe myrtle, remove branches above the area where they join or entwine a larger trunk or branch. Clean up the interior of the tree by cutting off branches growing from the main trunk. You may also remove old flowers and seed pods found at the tip of the branches.
This article discusses everything you need to know about pruning crepe myrtle—the why, when, and how—and other relevant information. Read further for more!
Should Crepe Myrtles Be Pruned?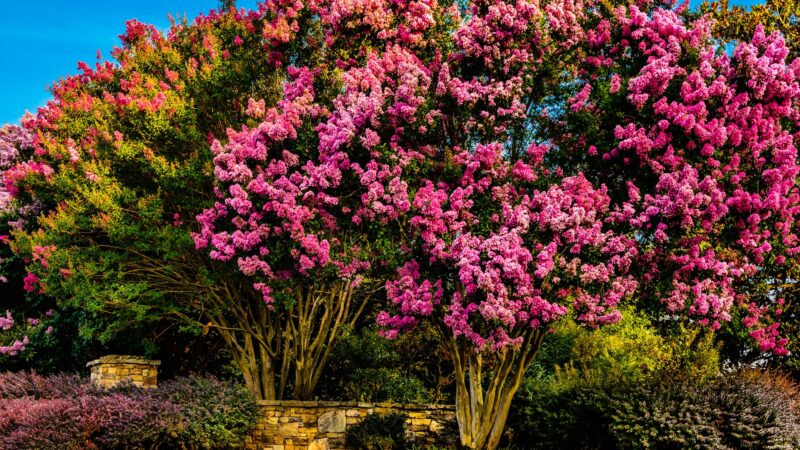 Pruning is not necessary if a crepe myrtle is planted in an area that allows it to receive full sun and sufficient room to grow, such as in lawns and landscapes away from walkways. In these locations, the trees can form a rounded canopy that would often extend into the ground, requiring no pruning.
However, when it is planted in conditions that are not good such as in shaded areas, pruning may be required if the plant since this environment would result in leggy growth and intrusion into roads and walkways.
What Happens if You Don't Prune Crepe Myrtles?
Usually, crepe myrtles (Lagerstroemia) can reach sufficient lengths even without pruning. Some species even, if left unpruned, can produce more flowers.
But since crepe myrtles are wide-spreading and multi-stemmed, their branches may reach sidewalks and road edges, making it bothersome for passersby, drivers, neighborhood people, and the like.
Why Prune a Crepe Myrtle?
Crepe myrtles should be routinely pruned for them to fit into their surroundings. This also improves their structure as you change their size and remove dead branches or overly vigorous shoots. Furthermore, pruning is also done for safety since it can extend into and block the visibility of roads and walkways.
What Happens When Crepe Myrtle Is Improperly Pruned?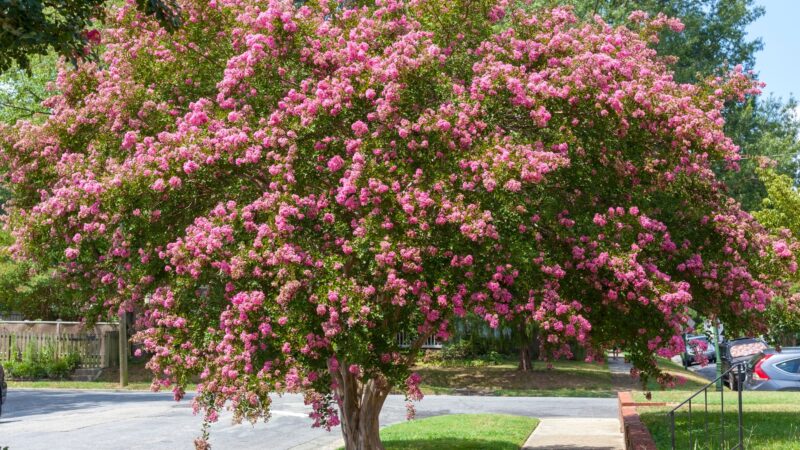 Topping, commonly called "crape murder" can become very damaging and disfiguring to a crepe myrtle. This practice causes profuse and dense growth at the site where the tree is pruned, increased vulnerability to diseases and insects, and will result in an unproportionate, witch's broom-like appearance.
Improperly pruned crepe myrtles will form "knobs" on the pruned site and will have new growth that is much too dense for proper air ventilation and light to enter the inner branches.
Flowers will be larger but will eventually droop as they grow on thinner, weaker branches, especially after rain. The worst-case scenario is that improper pruning may shorten the life of the tree.
When to Prune a Crepe Myrtle?
Trimming before new growth starts is the best time to prune crepe myrtles. It may depend on the growing season of crepe myrtles in your area but generally, late winter to early spring is ideal. You can also do tip pruning throughout the growing season if you wish to simply clean up seed capsules and old flowers.
The Best Tools to Prune Crape Myrtle
1. Hand or Scissor Shears. These tools are used to clip branches and twigs that are less than half an inch thick. They have curved blames that allow gardeners to make precise cuts on the tree branches and stems that have narrow crotch angles as well as reach into tight places on the crape myrtle trunk.
2. Bypass Loppers. Used to prune up to 1.5-inch thick branches. These tools have blades that are attached to long handles that allow increased leverage but may cause forearm fatigue. The gardener has greater leverage to make cuts in larger-sized branches and difficult-to-reach places. 
3. Pruning Saws. These are used for branches that are more than 1.5 inches thick. Good saws have a curved, tapered, or narrow blade ideally with 7 to 8 teeth per inch and a small kerf to make smoother cuts. Pruning saws reduce the amount of time and effort it takes to cut branches due to their teeth.
4. Pole Saw or Pole Pruners. Used when the gardener does not have a ladder on hand and wants to cut tree branches on a tall crape myrtle from the ground. These tools are essentially saw blades attached to a long hand-held pole and are used to cut up to 2 inches thick. 
How to Prune Crepe Myrtle? | Step-by-Step Guide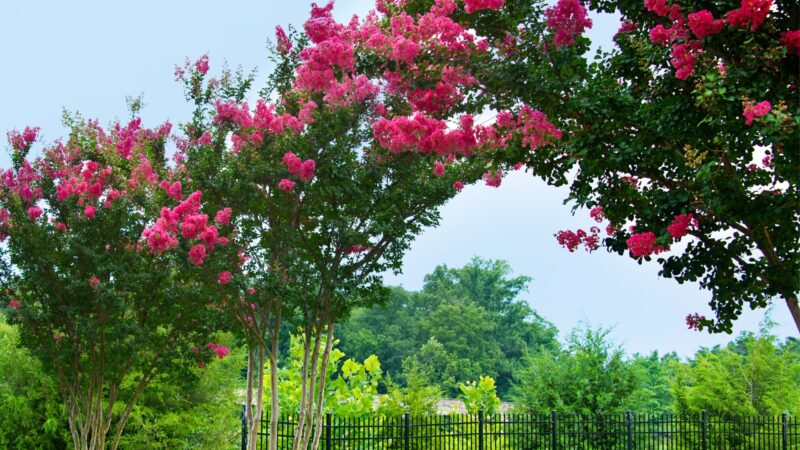 Step 1: Determine the direction where the trunks and branches grow. Do so by following the trunks upward to the location where they begin to branch. Branches that grow towards the center of the tree crossing, other trunks, and branches, should be removed.
Step 2: To remove a branch, find where it joins a larger branch or trunk. There will be a swollen or enlarged area where the two meet, also known as a branch collar. Using a pruning saw, cut the branch above the branch collar. The branch collar that was left behind should extend nearly an inch from the trunk.
Step 3: Using hand pruners, loppers, or pole saws (depending on the thickness of the branches or trunks), clean up the interior of the crape myrtle by cutting off the branches that grow from the main trunk. You may also remove seed pods and old flowers at the ends of the branches in a process called tip pruning.
Step 4: If it has been quite some time since you last pruned your crape myrtle, remove whole trunks by cutting them as close to ground level as possible. This method, however, should be done as a last resort if your tree has grown to an overly leggy, hard-to-maintain growth.
How to Fix and Care for Crepe Myrtle?
To restore a "murdered" crape myrtle, you can choose any of the following methods:
Choose 2 or 3 of the strongest spouts from each stub, then remove all of the other sprouts. This encourages the remaining sprouts to grow stronger and the canopy to allow more air ventilation. If you perform this method for a couple of seasons, you will see a significant improvement in the health and appearance of the tree.
A more drastic method is to cut the tree during its dormant stage within 1 to 2 inches of the ground. After 2 to 3 weeks of new growth, select 3 to 5 of the most vigorous newly-grown shoots on each trunk, then remove all the others, including new shoots that may emerge later. In 3 to 5 years, you will witness a natural-looking crape myrtle.
List of Sources
How Do I Prune Crape Myrtle? – https://pender.ces.ncsu.edu/2022/02/how-do-i-prune-crape-myrtle/
Guide to Pruning Equipment – https://hortnews.extension.iastate.edu/guide-pruning-equipment
Crapemyrtle Pruning – https://hort.ifas.ufl.edu/woody/documents/CrapeMyrtlePruning.pdf
Proper Crape Myrtle Pruning – https://bess.tennessee.edu/proper-crape-myrtle-pruning/