Choosing the appropriate succulent pots and planters is essential to give your succulents ample space to grow healthier. Ideally, succulent pots and planters materials should be breathable to encourage proper air circulation and proper drainage.
Here are some of the best succulent pots and succulent planter options:
Dahlia Design Drip Glazed Ceramic Large Succulent Pots—is made of high-quality ceramic, baked at high temperature.
Laerjin Succulent Pots with Drainage Holes and Bamboo—is a stylish geometric patterned pot with a bamboo tray made of top-quality ceramic.
Joda Round Large Succulent Planter with Stand—is made of eco-friendly materials, such as solid rubberwood for its stand and ceramic with two drain holes.
Apart from the three pots and planters listed above, this article will also discuss other best options and include further information about succulents, such as where they grow better, so you can apply them to your own succulent plants.
Do Succulents Grow Better in Pots?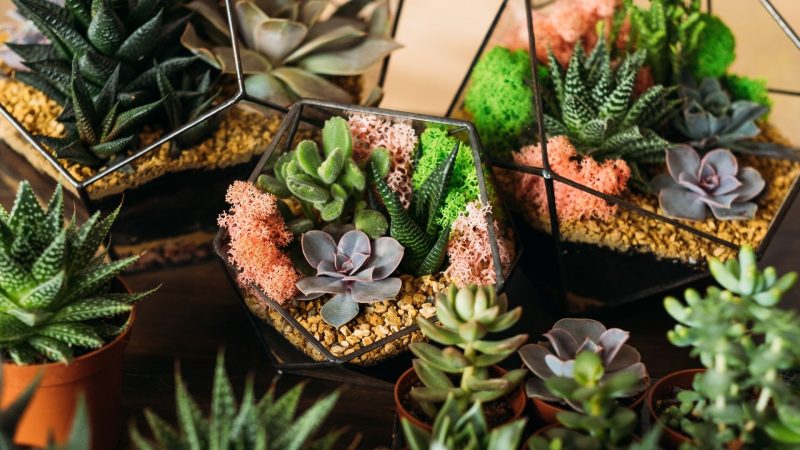 Succulents grow better in pots since they provide proper drainage compared to being planted in the garden soil. However, if your garden has a proper drainage system, succulents can also thrive there.
Pots and planters often have two drain holes, which are adequate to allow excess water to seep out. With that, you'll prevent water accumulation at the pot's base, which contributes to the development of root rot.
As a result, you'll have much healthier succulents that add beauty to your surroundings.
How Big Should Pots Be for Succulents?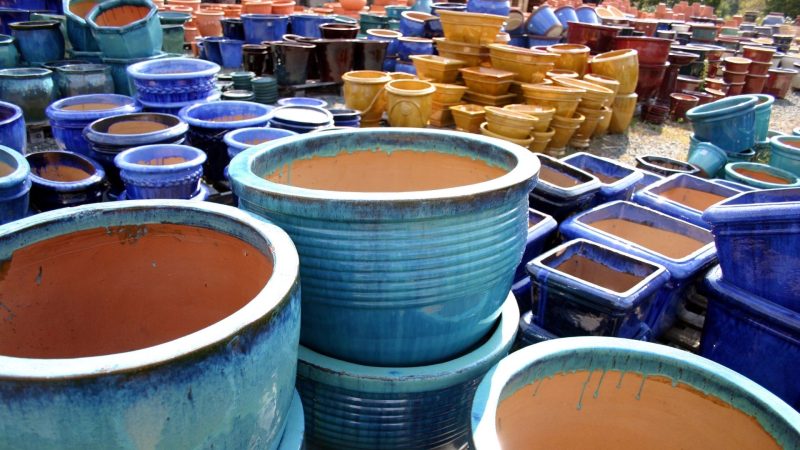 Determining the size of pots for your succulents can be challenging. At one point, pots that are too deep or big may not be suitable for your succulents.
On the other hand, if you choose a pot that's too small with a minimal amount of soil, it may not be enough either for healthy growth. Professional gardeners suggest the use of a container that has a diameter of five to ten percent larger than your succulent's width.
For example, if your succulent has a 3 inches width, it means that you'll need a pot with a 3.5-inch diameter.
Do Succulents Like Small Pots?
A small pot can inflict damage to your succulents in a way that it can only hold a small amount of soil. Since succulents get their nutrients from the soil, they'll not get enough nutrients if they're put into small pots.
As discussed above, the ideal pot size for succulents is the ones that are five to ten percent larger than their width. Putting a succulent into a small size pot will constrict its roots, leading to growth disruption.
How Long Can Succulents Stay In Small Pots?
Any succulent type you buy can stay in small pots for 6 to 12 months. However, in case the succulent obviously outgrew its small pot, it's best to re-pot it to allow the roots to grow freely.
Ideally, succulents are repotted before the commencement of their growing season—which is early spring or fall.
Succulent Pots Materials
One of the most important things to remember in buying a succulent plant pot is the material from which it's produced. Here are some of the most common pots materials you can choose for your succulent plants:
Ceramic and Terracotta Succulent Pots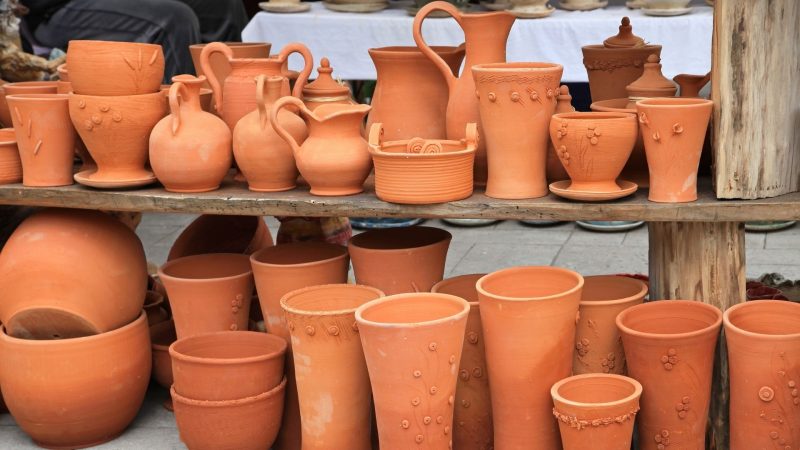 Ceramic and Terracotta pots are both breathable materials, making them perfect pot materials to be placed both indoors and outdoors. As the name suggests, the succulent ceramic pots are made of high-quality ceramic and baked at high temperatures.
Meanwhile, the terracotta pot is made of high-grade aged or weathered clay mixed with pulverized fire clay or sand. The mixture is then molded and fired at high temperatures to a level of compactness and hardness not attainable with bricks.
To simply explain this, the terracotta is an enhanced block or brick. The word terracotta originated from the Latin word terra cotta, which means 'cooked earth.'
This plant material can vary in color from white, brown to red. It's best to know that these materials can heat up if put in direct sunlight, which can dry out your soil more quickly.
Thus, check the condition of your succulents every now and then if you've put them directly in the sunlight with these pots. This way, you can prevent the succulents from wilting and preserve their good health.
Pros (Ceramic):
Offers varieties of attractive styles and colors.
Cons (Ceramic):
More expensive than other materials.
Typically crack when displayed to freezing temperatures.
Pros (Terracotta):
Made of porous material, allowing the soil to quickly dry out, preventing root rot.
Available in various shapes and sizes.
Cons (Terracotta):
Need frequent watering as the soil can dry out quickly due to its porous material.
Absorbs sun heat, which can burn the roots of plants.
Wooden Succulent Pots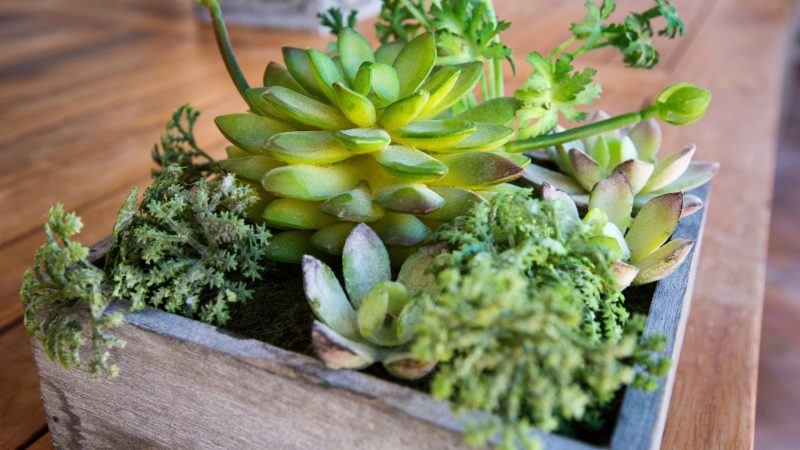 If you're looking for a unique way to plant your succulents, succulent wooden pots are a great option. They're not only eye-catching but also earth-friendly.
Moreover, the wooden pot material is suitable for succulents since it stays cool under the heat of the sun. On top of that, it retains water, which prevents succulents from drying out.
Pros:
Possess a natural rustic look.
Cons:
Will need water sealant if placed outdoors.
Plastic Succulent Pots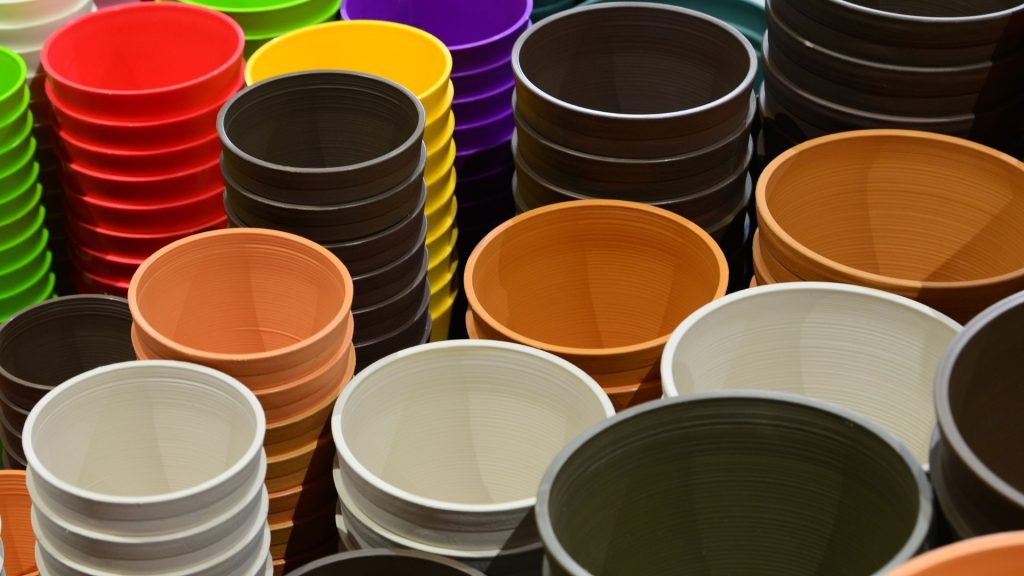 Another popular option for pots is succulent plastic pots. The huge advantage of this material is that it's lighter and not as delicate as ceramic.
The drawback of the plastic material is that it isn't as breathable as ceramic or terracotta, which is vital for succulents. In addition, the water is much harder to evaporate than other pot materials, such as ceramic and terracotta, which usually have two drain holes.
However, if you have well-draining soil and a pot drainage hole, the breathability issue of the plastic material wouldn't be an issue at all. This type of planter also comes in various shapes and colors, making them more interesting to shop.
Pros:
Cons:
It can't withstand strong winds.
Holds moisture longer, which can contribute to root rot.
Degrades slowly due to the sun's heat.
Metal Succulent Pots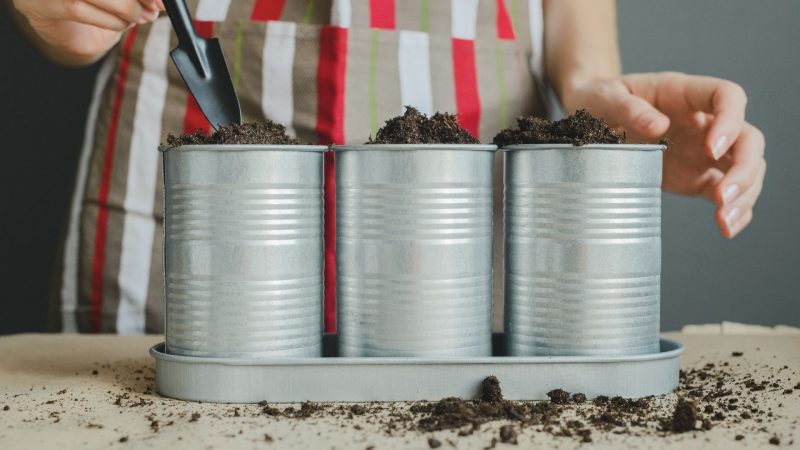 Another material option you have is the metal pots. However, it's best to know that this type of succulent pot material can change its temperature swiftly, causing the soil to heat up too much.
Furthermore, metal will eventually rust, which isn't good for the health of the succulents. So, if you want to go to a metal container, it's best not to put it under the direct heat of the sun and move your succulents to a new pot after a while.
Pros:
Available in various styles.
Cons:
Don't often have drainage holes, which can be problematic for succulents.
Best Succulent Pots and Succulent Planters
Choosing the right succulent pots and succulent planters is a must to give your succulent plants the space it deserves to grow healthy. So, here are some of the pots and planters that you can consider for your succulents:
This ceramic pot is made of durable glazed ceramic with smooth finishing. It has a vintage rustic style and drip glaze layers and patterns.
Furthermore, it has a drainage hole and saucer, making it suitable for places like countertops, desks, and window sills.
Pros:
Comes with a drainage hole and sauce.
Cons:
Can crack when exposed to freezing temperature.
More expensive than other succulent pot materials.
These ceramic mini succulent pots are tastefully crafted with different colors and an ice crack glaze porcelain design. It also comes with a hole for drainage at its bottom to provide good drainage and maintain soil moisture balance.
Pros:
Comes with 12 eye-catching succulent pots having different attractive colors.
Has a drainage hole to maintain soil moisture balance.
Cons:
Can crack when exposed to extreme freezing temperatures.
The Ceramic Mini Succulent Pots Handcrafted Crack Glaze is a modernly designed pot available in various colors and sizes. It features a drainage hole with a saucer, so you can easily control the water your plants get without spillage.
Pros:
Possess a drainage hole and a saucer.
Available in various sizes and colors.
Cons:
It can break when exposed to extreme freezing temperatures.
The square ceramic succulent planter box with a tray is a modernly designed planter that gives a versatile vibe when placed in traditional and contemporary settings.
It has a drainage hole and a detachable tray, making plant care easy and mess-free.
Pros:
Has a drainage hole and a detachable tray.
Cons:
The Umbra Trigg Geometric Ceramic and Brass Hanging pots are geometric vessels with simple yet elegant designs. It can add a modern ornamental touch to any indoor place.
Pros:
Cons:
This is an eco-friendly planter made of porcelain, ceramic, and rubberwood stand. It has two drainage holes, allowing water to seep through and making it more breathable for succulents.
Pros:
Comes with a rubberwood stand.
Cons:
These succulent pots are made of ceramic with several lovely geometric figures. This product also has a drain hole and comes with a bamboo tray that compliments the overall better appearance of the pot.
Pros:
Comes with a wooden tray.
Cons:
Do Succulents Like to Be Crowded?
Succulents can be planted together, but their growth can be restricted due to the crowded space. However, this wouldn't be an issue when you transplant the succulent to a new container as it can experience a spurt of new growth.
Are Succulents Too Big for Pots?
This actually depends on the size of your succulent. The ideal pot size for a succulent is five to ten percent bigger than its size.
For example, if you have a rosette with a 3 inches size, it's ideal for getting a 3.5 to 4 inches pot size. You should get five to ten percent bigger pots to allow them to spread and grow.
When Should Succulents Be Repotted?
It's a general rule of thumb to repot succulents every two years to give it fresh, fertile soil. The best time to do this is during the start of succulent's growing season, which is early spring and fall.
Can You Use Regular Potting Soil for Succulents?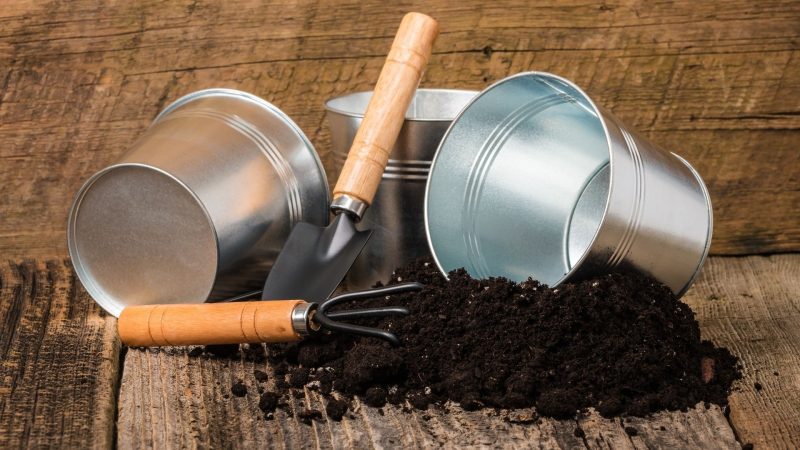 All types of all-purpose potting soil can work as the base to create your own succulent soil. The best mixing ratio for regular potting soil is two parts of gardening soil, two parts of sand, and one part of pumice or perlite.
To put it simply, you'll need 3 cups of garden soil, 3 cups of sand, and 1.5 cups of pumice or perlite to assist in aeration and drainage.
Summary
Picking the right pot is an essential thing to think about since it can make a significant difference to your succulent plants' growth. Thus, it's best not to think only about the color and design of your pot but also the type of container that will surely make a difference.
List of Sources
7 Preservation Briefs: The Preservation of Historic Glazed Architectural Terra-Cotta
Choosing a Clay or Plastic Pot for Plants (Typeofpots)
Successful Container Gardens – How to Select, Plant and Maintain: Choosing a Container for Planting