Strawberries are ideal fruits that can be grown by beginner backyard growers with limited gardening space. They can be grown in a variety of planting environments, such as planters, pots, and towers.
So, what are the best strawberry planters, pots, and towers? Here's a curated list made just for you:
Nutley's Hanging Strawberry Planters
Architec Homegrown Strawberry Tower Planter, Set Of 3
Mr. Stacky 5-Tier Strawberry Tower Planters, 5 Pots
Large Terracotta Strawberry Pot, 32cm Tall
Wall Mounted Pocket Vertical Hanging Strawberry Planter
Five-Tiered Vertical Strawberry Planter, Outdoor And Indoor
Amazing Creation Stackable Vertical Planter For Strawberries
BloemBagz Strawberry Planter, 9 Gallon, Tequila Sunrise
Gardenesque Glazed Ceramic Strawberry Pot 12″
Kingbuy Hanging Basket
6 Packs 15 Inches Terracotta Color Flower Window Box
This guide will provide you with what I found to be the best strawberry plants, pots, and towers, their specifications, and product dimensions. It will also provide information about strawberry planters, the different types available, their effectiveness, and more!
What Are the Types of Strawberry Planters?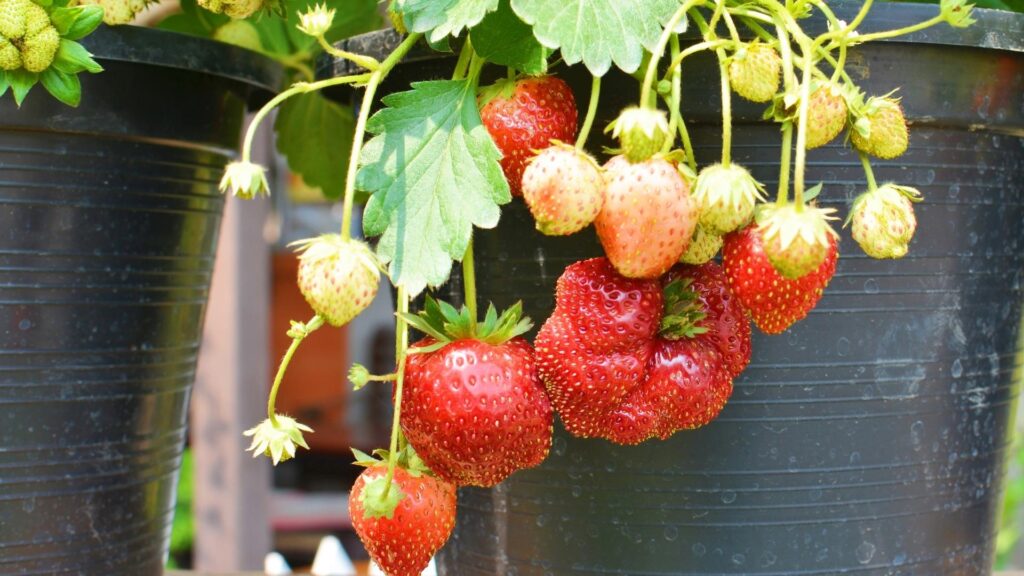 Vertical Strawberry Planter
Vertical planting works by relying on gravity to distribute nutrient-rich water from top to bottom, usually at a gradual rate. It's particularly ideal to use for small places with enough direct sunlight, such as rooftops, balconies, and patios.
Using vertical planters will provide 90% more water efficiency than traditionally-designed planters. It will also reduce the risk of your plants acquiring soil-borne diseases.
Hanging Strawberry Planter
Hanging planters usually consist of baskets or boxes, a sturdy frame, and hooks that are perfect for small gardening spaces. It also allows better aeration for roots but will be disadvantageous when it comes to drainage as you would have to use a saucer to catch excess water.
Depending on the material of the hanging planter product and the size of the drainage holes, they usually dry out quickly, so constant watering is needed.
Strawberry Towers
Tower planters also adopt a vertical planting system. It will also use tiers or layers that consist of either individual, removable pots or pots that are directly fused altogether. This is perfect when you plan to grow plant varieties other than strawberries.
For best results, potting soil must be used to enhance nutrient distribution and allow good water drainage, as well as applying a vegetable and flower fertilizer to boost plant growth and productivity.
Classic Strawberry Planters
The classic way of growing strawberries is to place them in vertical, usually cylinder-shaped containers with the top portion open and multiple holes or openings at the sides to allow sunlight and air to come through the plant.
Classic planters can also be propped up by hooks and turned into hanging planters. This is to reduce the possibility of root rotting and plant diseases.
Strawberry Pots
Strawberry pots are usually about 2 feet in height and can be made from plastic, clay, wood, and ceramic material. They're similar to classic strawberry containers due to the multiple holes around the sides. The difference is you can grow other plant varieties at the holes.
These pots are often used in agricultural areas that don't have sufficient conditions in growing strawberries on the ground.
11 Best Strawberry Planters, Pots, and Towers
This hanging planter is not only ideal for planting strawberries but also for facilitating the growth of other herbs, flowers, and fruits such as tomatoes, petunias, and parsley. You can hang it in your backyard, garden, balcony, patio, or even over a door as long as there's enough sunlight.
The product comes with 2 bags with 10 slits each so you can plant a variety of your choice. It's made up of a sturdy polyethylene material that is treated to withstand even the harshest ultraviolet rays, ensuring long-lasting usage.
You can also reuse the hanging planters as long as you don't leave them outside during the winter season. Bag hooks are unfortunately not included and must be bought separately to properly hang the planter.
Product dimensions: 17.5″ (length) x 19″ (width) and weighs 2.11 ounces.
Comes in 3 separate planter boxes that can be used individually or stacked altogether to resemble a tower capable of holding 28 strawberry plants. It makes an ideal environment for vertically-grown fruits, herbs, and flowers such as cucumbers, thyme, and more.
This planter includes a clear plastic sauce to allow easy excess water drainage, especially when planting indoors or on rooftops. It's also easy to assemble, so gardening beginners will experience little to no problems using the product.
The compact, cedarwood design is vulnerable to wearing and tearing if not taken care of properly or if it's placed outdoors under unfavorable weather conditions. However, it's durable enough in the sense that it won't tip when faced with strong winds or storms.
Product dimensions: 12″ (width) x 9″ (height) when used individually and 24″ (height) when stacked. It has an overall weight of 6 pounds.
You can place this planter standing on the ground, propped on a holder, or hung using a chain for hooking. These tower planters can be used for homegrown strawberries, flowers, herbs, and succulents without taking up too much space in your indoor or outdoor gardens.
Made out of durable plastic materials, this modern-style 5-pot planter is flexible, lightweight, and durable. It comes with a removable drip tray for water drainage. This can be separated into 2 groups made of 2 layers and 3 layers each, respectively.
When filling with soil, use 64 quarts of potting soil to fill all 5 pots. Water will be distributed through all of the pots. This is because of its efficient flow design that will also allow the soil to stay moist for about 2 days, as long as you water regularly.
Product dimensions: 12″ (length) x 12″ (width), 28″ (height), and weighs 3 pounds.
A uniquely-designed pot planter that has a large central opening, fit for 3 strawberry plants and 6 pockets ideal for either more strawberries (1 each) or you can choose to grow other varieties of plants such as herbs, flowers, succulents, and fruits.
This hand-crafted product comes with 3 small drainage holes at its base so you can avoid overwatering your plants as well as get enough aeration for their roots. You can only place them on the ground near or on top of the soil for great results.
Made out of unglazed ceramic, this planter is durable against cracking if your composts are waterlogged. However, it may not be strong enough to survive colder temperatures. Thus, make sure you either move them to warmer areas or wrap them with insulating materials.
Product dimensions: 81.3″ (height) x 109″ (width at the widest part) and weighs 16.4 pounds.
It is a hanging planter that has 7 pockets for planting strawberries, herbs, flowers, vegetables, and other plants. This product has metal eyelets that can easily be connected with a hook or chain and mounted on walls on decks, terraces, and gates.
What's more is that the planter is made of thick, premium felt fabric material. It allows optimal water absorption and retention, as well as excess drainage. It also has better air permeability for healthier roots and optimal plant growth.
Each planting bag is double-stitched to be able to resist wearing, tearing, and deformation so that you will be able to enjoy long-term usage. The product, unfortunately, doesn't come with a container for catching excess water—you would have to provide that instead.
Product dimensions: 40″ (total product height), with each individual pocket measuring 11″ (length) x 4.3″ (width) x 5.7″ (height), and weighs 8.6 ounces overall.
If you want to add an aesthetic flare to your gardens, this is the perfect choice for you. The product is inclusive of instructions and is easy to assemble without needing to use any power tools. You can grow strawberries, flowers, vegetables, herbs, and succulents!
It has an ergonomic 4-layer design wherein each layer of the planter has plastic bins consisting of weather-resistant polypropylene material. It is free from lead, mercury, and bisphenol A. The frame holder is made from high-quality forged steel with a powder coating to add strength and durability.
When installing and using, be extra careful with any sharp edges. It's best to wear protective gloves and follow the installation guide to avoid injury or damage to property, as well as to ensure the planter is ready to be filled with plants.
Product dimensions: 49″ (height) x 29″ (width) and weighs 24 pounds.
This stackable strawberry planter consists of 5 pots with 3 slots each and can accommodate up to 15 plant varieties. You can reduce the space used by your plants by using this product as a tower, especially when you want to achieve a simple, compact gardening layout.
Built with a durable and lightweight, high-quality polypropylene design, this planter is resistant to wearing and tearing, as well as intense weather conditions, which is ideal for long-term usage and growing vegetables, herbs, and succulents.
The best part is that the pots have a soil separator for better air ventilation through the soil and roots and reducing the risk of rotting. You may, however, experience water flow issues. You would have to remove the layers one by one for all your plants to receive water.
Product dimensions: 12.5″ (width) x 24″ (stacked height) and weighs 3.94 pounds.
With its interesting design, this strawberry planter can store up to 38 quarts of soil and has a central container with 8 side pockets perfect for growing a variety of plants such as fresh herbs, exotic succulents, blossoming flowers, and more!
The product is made out of recycled double-layered and double-stitched polyethylene to allow better aeration of roots and soil, as well as with grommets made out of stainless steel to enhance durability and regulate plant temperature.
You won't have to worry about overwatering or root rotting as the planter allows excess water to drain and evaporate easily. It also comes in 7 different colors to choose from based on the look you want to achieve for your garden!
Product dimensions: 17.75″ (width) x 17.75″ (height) and weighs 3.84 ounces.
This tiered indoor and outdoor planter resembles Sun Cake's ceramic planter and is perfect for growing alpine strawberries and kitchen herbs. You can even place them directly in your kitchen for easy access as it's small, compact, and uses little space.
The product is made from high-quality earthen clay and finished with a light glaze which makes it extra durable against weathering, tearing, hardwearing, and fading. You can choose from 3 aesthetically pleasing colors: gray smoke, white smoke, and topiary green.
Moreover, the planter is drilled with a drainage hole to allow better ventilation and remove excess moisture. However, it doesn't come with a saucer, so you would have to purchase one.
Product dimensions: 27″ (width) x 25″ (height) and weighs 6.6 pounds.
For a more environmentally-friendly planter, this is the best choice for you. It's made out of natural coconut fiber with a handmade iron basket that resembles a coconut husk, ideal for planting flowers, succulents, moss, and grass.
The coconut materials used allows better moisture absorption and breathability, which enhances and maintains optimal plant growth. The hooks and iron chain is made out of heavy-duty bolded iron and coated with rust-resistant powder, making them safe to use for years!
To use, place plastic or non-woven lining layer inside the basket to aid absorption before adding in your chosen potting mix or compost. Then, simply thrust your plants deep into the liner, and viola! You can place it in both small and large spaces such as gardens, rooms, patios, and more.
Product dimensions: 8″ (width) x 4.7″ (height) and weighs 14.9 ounces.
This rectangular strawberry planter is ideal if you prefer growing your plants horizontally for both indoor and outdoor gardening. The fun part is that the product comes with 15 pieces of plant labels for you to accurately identify your plants.
Made out of durable, premium, and eco-friendly plastic materials, this planter box can last several planting seasons. It comes with 4 open drainage holes, 6 additional resealable drainage holes, and an attached drainage tray to keep excess moisture out and allow more air in.
It's best placed on your windowsill, but you can also put it on your porch, gardens, and patios. Unfortunately, it would take up more room since it is widely shaped, so it's best if you choose areas with ample space.
Product dimensions: 15″ (planter length) x 6.8″ (planter width) x 15.7″ (tray length) x 6.3″ (tray width) x 4.9″ (total height) and weighs 4.18 pounds.
Do Strawberries Grow Well in Strawberry Pots?
Strawberries grow well in strawberry pots, especially if you constantly replace the soil with newer and more sterile soil so that you wouldn't have to do any weeding and worry about root rotting or other disease problems.
Strawberries are usually planted in strawberry pots since they're relatively smaller plants and have shallow root systems, so they aren't particularly competitive when it comes to absorbing nutrients and water from other plants.
What Month Is Best to Plant Strawberries?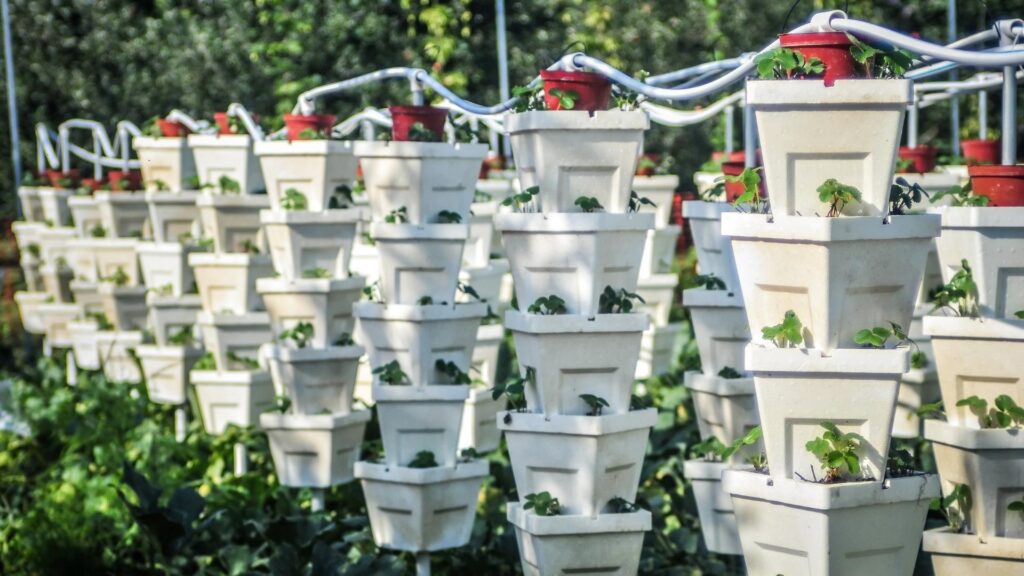 Early spring, or around March to April, is the best time to plant strawberries, assuming that the soil you're using to grow strawberries on is not too moist.
Here are the different strawberry varieties, their characteristics, and when they start to produce fruits:
| | | |
| --- | --- | --- |
| Type of Strawberry | Characteristics | Production Period |
| June-bearing | Largest in size and yield, best for commercial growers. | June |
| Everbearing | Smaller but more reliable since they bear fruits later in the year and avoid experiencing cold temperatures | July, August-September |
| Day-neutral | Similar to everbearers and are a crowd-favorite among home gardeners | Continuous throughout summer |
What Is the Best Potting Soil for Strawberries?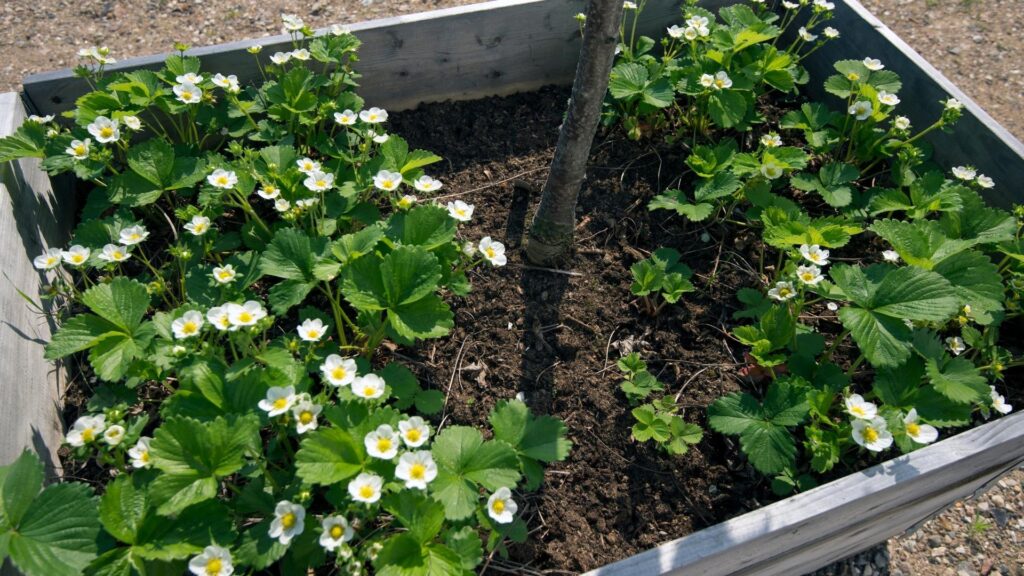 Strawberries will develop the best in soil that is deep, sandy, loamy, well-drained, rich in organic matter and has a pH level of 5.8 to 6.2. The planting area itself should be able to receive full sunlight and be slightly sloped for optimal strawberry growth.
Can Strawberries Survive Winter in Pots?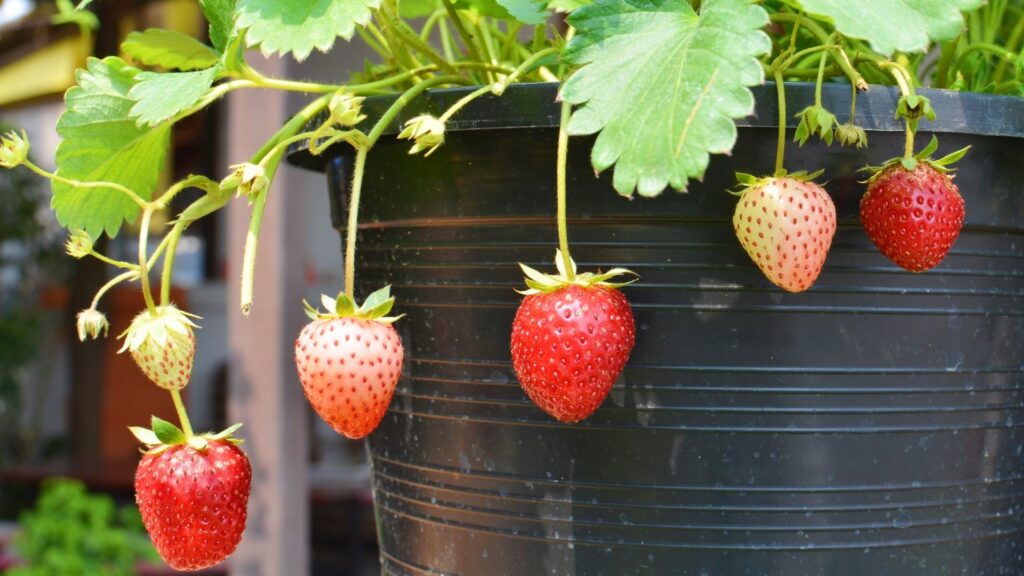 Strawberries can survive winter in pots if they are properly covered in mulch that is about 3 to 6 inches deep before the cold temperatures hit the plants. Straw is the most used organic material, but you can also use wood shavings and pine needles. Avoid using hay since it may cause weed growth among strawberries when it is time for harvesting.
Strawberries are great fruit crops that can be grown in vertical strawberry planters, hanging strawberry planters, strawberry towers, classic strawberry planters, and strawberry pots.
They're best planted during early Spring on soil that is sandy, loamy, and rich in organic matter and are harvested based on variety—June-bearers in June, ever bearers around July and August to September, and day-neutrals can be harvested anytime throughout the summer as long as they're ripe.
List of Sources
Three Strawberry Types Sweeten Wyoming Tables
Yard and Garden: Prepare Strawberry Plants for Winter
Growing Strawberries for Beginners