Aloe vera plants are undoubtedly the most popular houseplants due to their visually appealing appearance, which adds a natural, modern feel to any interior landscape.
They can also be grown for medicinal and cosmetic purposes due to their gel. When planting, it is necessary to choose the best pot for your aloe vera to allow healthy and optimal growth.
This article discusses everything you need to know about the best aloe vera planters, their distinctive features, overall dimensions, and other interesting information. Read further for more! 
What Are Aloe Vera Plants?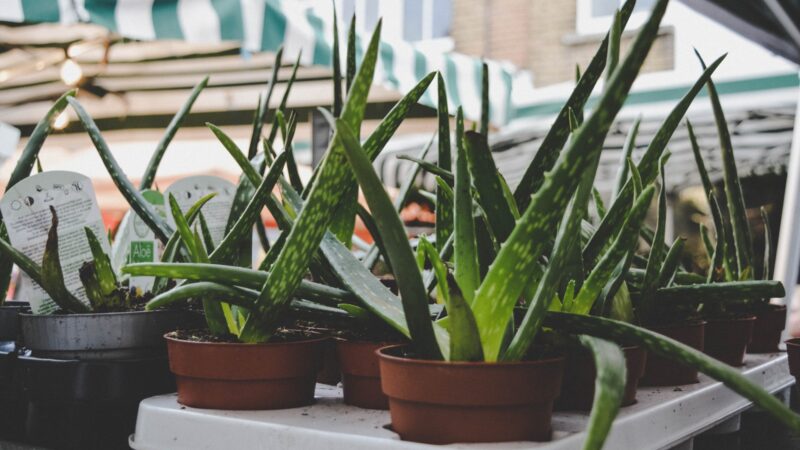 Aloe vera is a succulent which can be grown as an outdoor perennial in temperate regions or an indoor houseplant in other areas. It is characterized by fleshy, lanceolate leaves that are grayish green or pale green in color, as well as a short and stout stem. It also grows yellow flowers and reaches a height of 3 feet.
These plants are grown for the clear gel or "juice" in their leaves, which is used in beverages, desserts, and yogurt, as well as for medicinal purposes due to their moisturizing, soothing, and cooling properties.
What to Consider When Choosing the Best Pots For Aloe Plants?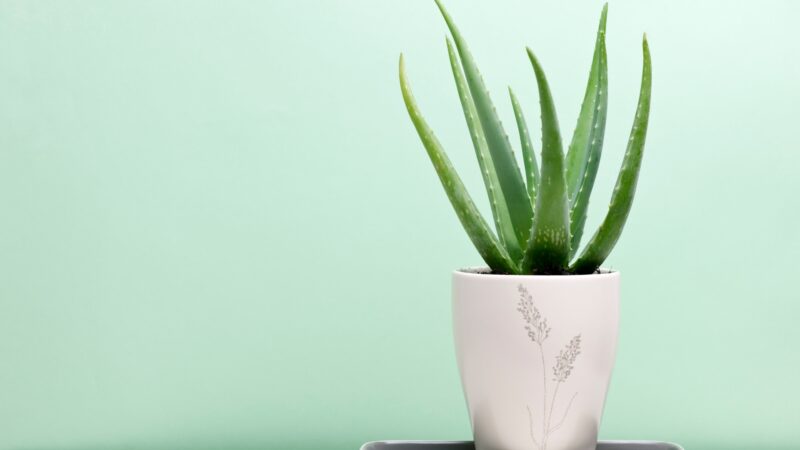 Size Requirements
Aloe vera can be grown in a variety of sizes, but usually, you should start with a smaller pot to promote optimum growth before moving them to a larger pot to allow them to grow bigger in size.
The pot should sufficiently hold the plant—too large containers hold too much water, which can lead to overwatering and root rot.
Best Material
Generally, aloes prefer ceramic pots since they provide better drainage compared to other materials but terracotta and plastic work fine too, as long as there is a good drainage system in place.
Drainage
The container should have one large or several small drainage holes since aloe vera plants cannot tolerate overwatering since their roots tend to rot.
Depth of the Pot
Aloe vera plants prefer shallow pots since they do not have heavy or thick roots that require deeper pots.
Water Collection Tray
This should come with the planter as support for the drainage holes. Preferably, it should be detachable so that you can transplant the plants into garden soil if you wish so.
10 Best Pots for Aloe Vera Plants
Brajttt 4-Inch Cylinder Ceramic Flower Pots
Material: High-grade glazed ceramic made out of durable kaolin
Features:
Suitable for planting succulents, potted plants, and other small to medium-sized plants such as orchids, peace lilies, herbs, and aloe vera.
Comes in a clean white color with varied striped patterns and smooth edges, which gives a modern, minimalistic look to your living room, patio, windowsill, garden, yard, desktop, and other living spaces.
Each pot comes with a drainage hole that allows excess water to be drained, as well as a saucer to properly catch it and reduce run-off.
Exercise caution when watering since the saucer is small in size.
Product Dimensions: 4.2" (diameter) x 3.95" (width) x 3.6" (height)
HOMENOTE White Succulents Pots
Material: Durable glazed ceramic
Features:
These planters come in a set of 3 varying in small, medium, and large sizes, allowing you to hold any type of plant depending on their growth habits and the space they require.
To avoid overwatering, the pots have drainage holes on their bottom to reduce excess water, as well as a saucer made out of bamboo to catch it.
However, drainage may not be quite effective since the diameter of the saucer is nearly the same size as the pots. To remedy this, you would have to use a better potting medium and adjust your watering schedule.
Perfect for aesthetics and displaying plants on windowsills, desks, kitchen counters, and other living spaces due to its sleek and modern design.
Product Dimensions: Small pot is 3.8" (diameter) x 2.6" (height), Medium pot is 5" (diameter) x 2.9" (height), and Large pot is 6" (diameter) x 2.9" (height)
La Jolíe Muse Large Succulent Planter Pots
Material: Premium handmade and sturdy ceramic with 4-mm thick walls making it less susceptible to breakage or shattering
Features:
Fairly large container that provides gardening enthusiasts with more creativity when spacing plants, as well as encourages plants to consume more space.
Comes in a cement gray color with a rose-gold rim detail that makes it ideal for aesthetics and adding a touch of elegance, especially to home decor.
The planter comes with a drainage hole at the bottom, but with no saucer, so you would have to purchase a separate one.
The manufacturer highly suggests not cleaning the planter with hard materials to protect its surface.
Product Dimensions: 6.3" (diameter) x 8" (width) x 3.6" (height)
MyGift 10 inch Rectangular Modern Minimalist White Ceramic
Material: Ceramic
Features:
Unique rectangular design, which gives a clean, minimalistic, and contemporary look to any living space and outdoor area due to its classic white finish, although it also comes in other interesting colors such as black, copper, and turquoise.
Comes with two draining holes and a detachable draining tray to keep the soil consistently moist but not excessively wet.
Can be placed on shelves, desks, windowsills, tables, and countertops without ruining any of their surfaces.
Product Dimensions: 5.25" (diameter) x 10.25" (width) x 4.25" (height)
D'vine Dev Terracotta Pots for Plants
Material: Unglazed clay-based terracotta with a smooth texture and matte finish, allowing for more ventilation and water flow
Features:
Set of 3 containers that are varying sizes perfect for growing small to medium-sized aloe vera
Has drainage holes, a stainless steel mesh net, and a detachable saucer that can remove excess water and run-off. However, the saucer is roughly the same size as the pot, which means you have to be wary of your watering schedule and potting mix.
Additionally, this product also comes with scratch pads that protect wooden furniture, tabletops, and other surfaces from scratches that the pots may cause.
Their brown color adds a minimalist feel to home decor and gardens. Additionally, the pots can be used for non-gardening purposes, such as creative projects.
Product Dimensions: 4-inch planter is 4.2" (height) x 4.2" (diameter), 5-inch planter is 5.3" (height) x 5.3" (diameter), and 6-inch planter is 6.5" (height) x 6.5" (diameter)
POTEY Ceramic Planter with Wood Stand
Material: Premium quality ceramic that is baked in high temperatures with thicker walls and a glossy finish, making it durable, less likely to fall over, and providing better thermal insulation
Features:
Ideal for displaying aloe vera plants on tabletops, shelves, kitchen counters, windowsills, offices, living areas, gardens, and patios. The design can be square or line-patterned.
Comes with a drainage hole plug for efficient indoor use. When planting outdoors, it can be removed.
It also has a drainage hole that prevents overwatering and enhances overall plant health. It is suggested to add mediums such as stones or pebbles on the bottom of the pot before adding potting soil mix.
Additionally, it has a wooden stand with rubber feed to add a little height to the planter and to lessen the risk of it tipping over.
Product Dimensions: 5.6" (outer diameter) x 5.2" (inner diameter) x 4" (height)
JORAIR Ceramic Plant Pots with Saucer & Drainage Hole
Material: High-quality porcelain with a ceramic surface made from kaolin, which prevents the pot from cracking and allows stronger water retention
Features:
Comes with ergonomic drainage holes and a detachable saucer which promotes plant growth and transpiration.
The design is a classical black and white, which gives a clean, minimalist design suitable for decorating shelves, kitchens, windowsills, desktops, outdoor terraces, and gardens.
Aside from plants, small ornaments may be added to the pot or the pot can be used as a storage container.
When cleaning the pot, use a soft, damp cloth.
Product Dimensions: 4.3"(diameter) x 3.94" (width) x 4.17" (height)
Vivimee 2 Pack Ceramic Plant Pots
Material: Earthenware materials, terracotta, and plastic surface which provides better performance with regards to water retention and air permeability
Features:
Can host a variety of plants aside from aloe vera, such as orchids, daisies, strawberries, and flowering plants.
Has drainage holes at the bottom of the container and provides a deeper pot space.
Mount it in indoor gardens, bedrooms, tabletops, windowsills, kitchen counters, and shelves, as well as outdoor spaces such as patios
Comes in a unique, handmade embossed pattern, giving a contemporary and elegant look to any place you put it in.
Product Dimensions: 5.7" (diameter) x 5.7" (width) x 5.2" (height)
Greenaholics Succulent Planter Pots
Material: High-quality, durable ceramic processed in high temperatures to ensure no fading will occur.
Features:
Perfect for tiny aloe veras to grow in due to their smaller size.
Comes in mandala patterns predominantly of red, green, and blue that allow a vibrant and livelier look to your home spaces. You can place them on your window sills or office desks.
Each planter contains drainage holes, mesh pads, and bamboo saucers to allow excess water to drain.
Product Dimensions: 3.07" (diameter) x 3.18" (height)
POTEY 053801 Ceramic Planter Flowerpots
Material: Glazed ceramic made from natural soil and baked through a hot-fired stoneware which allows greater water retention and air ventilation
Features:
Perhaps the most stylish in this list due to the marble pattern, matte black or white, and brown wood designs, which give off a beautiful, modern, and appealing look to any living space you put it on. It is great for decorating your desktops, offices, windowsills, kitchens, bathrooms, and bedrooms.
Two-container set that both features a drainage hole and a rubber plug that you can use to manage the amount of air and water your aloe vera plants receive without any spillage.
Water drop stains or bubbles can be a common problem. Wipe them with a wet towel or cloth.
Product Dimensions: The bigger pot is 6" (diameter) x 6.1" (height), while the smaller pot is 4.8" (diameter) x 5.1" (height)
When to Change the Pot of the Aloe Plant?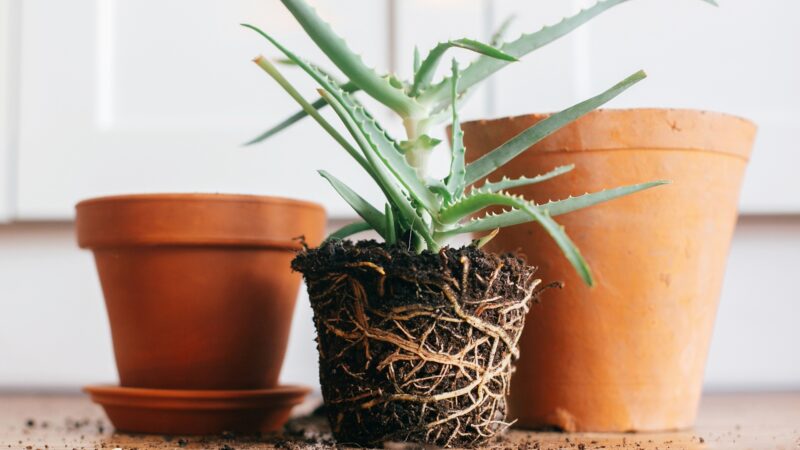 Repot plants when the roots have grown to an unmanageable size in their existing container. The new pot should only be 1 to 2 sizes bigger. Repotting should also be done to change the rooting medium used.
How to Water Aloe Vera in Pots?
Young plants should be watered deeply until they are established. However, overwatering should have been refrained so that the roots will grow more efficiently.
This is why they should be allowed to dry in between waterings. Watering should be done less frequently during the winter season.
Do Aloe Plants Require Big Pots?
It depends on how big you want them to grow. Generally, it's best to start planting them in small pots and then transplant them into bigger pots to give them room to grow if desired.
Are Ceramic Pots Suitable for Aloe Plants?
Ceramic pots are suitable for aloe plants since they provide good drainage.
List of Sources
Aloe vera – https://plants.ces.ncsu.edu/plants/aloe-vera/
Growing Aloe Vera – https://cals.arizona.edu/yavapai/anr/hort/byg/archive/
What Should I Know About Growing Aloe at Home?