Begonias are a genus of popular herbaceous ornamental plants used indoors as container plants or outdoors as bedding plants. They are relatively easy to propagate since they can be regrown from a variety of methods. 
To propagate begonia, you can do so by using a sharp, sterilized gardening tool to select parts of the begonia to plant. As such, begonias can be propagated using stem cuttings (rooted in water or soil), leaf cuttings (with or without petiole, partial leaves, and split-vein), and rhizomes.
This guide will teach you everything you need to know about propagating begonias, what tools you can use, and the problems that you may experience while growing begonias. Read further for more!
What Is Begonia?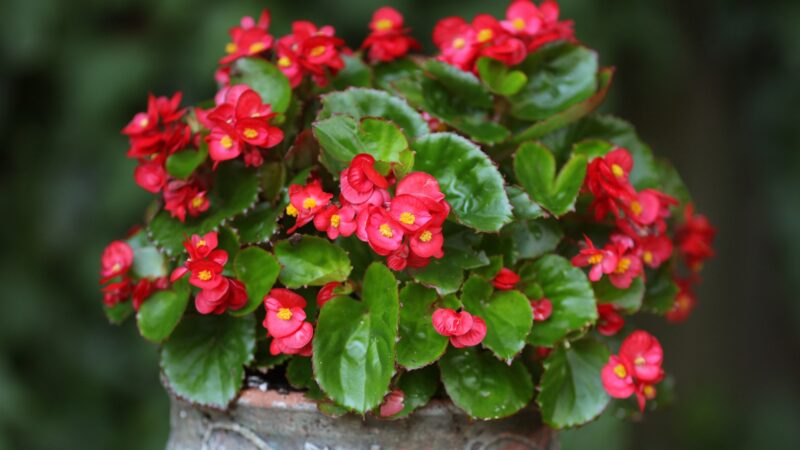 Begonia is a genus of mostly succulent flowering plants that are native to tropical regions. It is further divided into three major groups: rhizomatous, fibrous-rooted, and tuberous-rooted begonias.
Most begonias are grown as outdoor ornamentals, but they also make attractive indoor plants in containers, hanging baskets, and window boxes.
When to Propagate Begonia?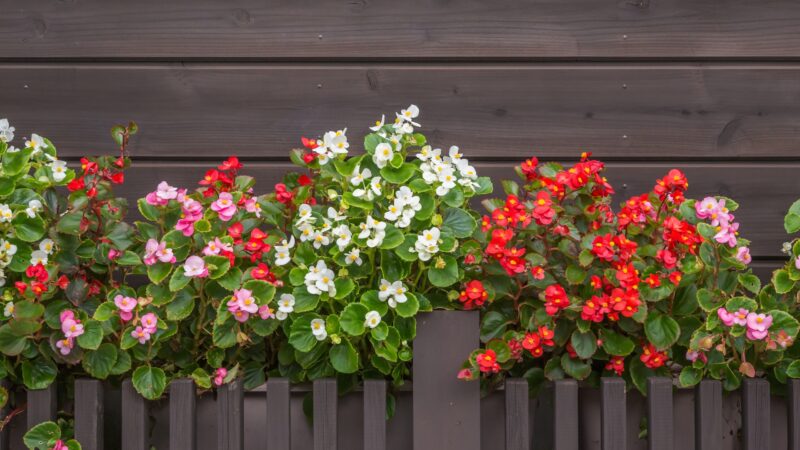 They can be propagated at any time of the year. However, the best time would be in the spring, about 8 to 10 weeks before the last predicted spring frost in your area.
Tools for Propagating Begonia
Always sterilize gardening tools before propagation. Do so by dipping it in rubbing alcohol or a mixture of water and bleach at a ratio of 9:1 to prevent disease transmission.
1. Gardening Knife (Hori-hori). A simple tool with a blade and a handle where one side of the blade is serrated while the other side is smooth. It is used for simple tasks such as cutting twines, dividing plants, and loosening rootbound plants.
Truly Garden Hori Hori Garden Knife
Sowist Hori Hori Garden Knife
2. Pruning Shears. There are hand-pruning shears varieties that are used for cutting small branches. These are often referred to as bypass pruning shears.
Fiskars Bypass Pruning Shears
Wevove 3 Pack Garden Pruning Shears
FELCO F-2 068780 Classic Manual Hand Pruner
3. Loppers. Long-handled tools are operated with both hands and used for plants with thicker stems.
TABOR TOOLS GG12A Anvil Lopper
Fiskars Bypass Lopper 28" Tree Trimmer
THANOS A1101 Extendable Anvil Loppers 
4. Hand Trowel. This tool works as a mini or hand-held shovel necessary when planting begonias outdoors through rhizomes.
Fiskars 384220-1001 Ergo Garden Hand Trowel
Edward Tools Garden Trowel
How to Propagate Begonia From Cuttings? | Step by Step Guide
Step 1: Select cuttings from a healthy, disease-free begonia, preferably from the upper portion of the plant. Do so in the early morning. As much as possible, avoid selecting plant material with flower buds. If it can't be helped, remove those flowers and flower buds.
Step 2: Using a sharp, sterilized cutting tool, select a 4 to 6-inch long cutting (including the terminal bud), ideally from lateral shoots below a node. To quicken rooting, increase the number of roots present on the cutting.
Step 3: Remove any leaves present from the lower one-third to one-half of the cutting.
Step 4: You can choose to root the cuttings in water or soil using the following instructions:
Water Propagation
Submerge the cutting into a container filled with clean, unchlorinated, fluoride-free, well-aerated water. Make sure the leaves are sticking out of the container. Place the container in a warm location where the plant can receive bright, indirect light.
Soil Propagation
Treat the cutting with the rooting hormone to stimulate root growth. Tap any excess product away if you're using a powdered formula. Prepare the rooting medium of the plant by selecting one that is low in fertility, sterile, and well-draining.
Insert one-third to one-half of the length of the cutting into the medium. Make sure its buds are pointed up. Place in a location with bright, indirect light and continue to moisten the medium until roots form.
How to Propagate Begonia From Leaf? | Step by Step Guide
Whole Leaf with Petiole
Petioles refer to the part or stalk of the plant that connects the leaf to the main stem.
Remove a leaf from the plant and include up to 1.5 inches of its petiole.
Insert the lower end of the petiole into the rooting medium.
When new plants with their roots start forming at the base of the petiole, you can detach the leaves of the new plants and then reuse the petiole.
Whole Leaf without Petiole
Leaves that are directly attached to the plant stem without the help of a petiole are referred to as sessile leaves.
For begonias with long, sessile leaves, cut the leaves into 3- to 4-inch pieces, then insert them vertically into a rooting medium.
The mid-vein should be buried into the medium as it is where new plants will emerge.
Partial Leaves
This method is used for fibrous-rooted begonias such as wax, angel wing, and cane begonias.
Cut the leaves into wedges with a main vein on each piece.
Place the leaves flat into the media, with the main vein being partially covered. A new plant will grow in the vein.
Split-Vein
Similar to the partial leaves method, detach a leaf from the begonia plant and remove its petiole. On the underside of the leaves, make cuts on its prominent veins.
Place these cuttings in a rooting medium with their lower sides down.
If the cutting curls upwards, hold it in place by covering the outer margins with a rooting medium. New plants should form at each cut.
How to Propagate Begonia by Rhizomes? | Step by Step Guide
Begonias can also be grown through division, using their rhizomes.
Step 1: Dig up the plant from its container. You should be able to take hold of its "ball" or the mass of roots growing underneath the plant. Shake the soil away until the roots of the plant become visible.
Step 2: Cut the plant into separate pieces, with each section having rhizomes attached and at least one foliage fan each. Throw away any rotting or dead sections.
Step 3: Prepare new soil or potting mix, then place the divisions horizontally making sure that the tops of the rhizomes are beneath the soil's surface.
How to Propagate Begonia Through Seed? | Step by Step Guide
Tuberous begonias can be propagated from seed but must be planted early in December or January if you want them to bloom by summer.
Step 1: Fill a pot or container with the fine-textured potting mix. Then, slightly water it.
Step 2: Press the seeds onto the surface of the medium. Then, cover them using milled sphagnum.
Step 3: Using a sprayer, moisten the sphagnum. Then, cover the entire seedlings with plastic wrap or use a glass to trap the moisture.
Problems With Begonia Propagation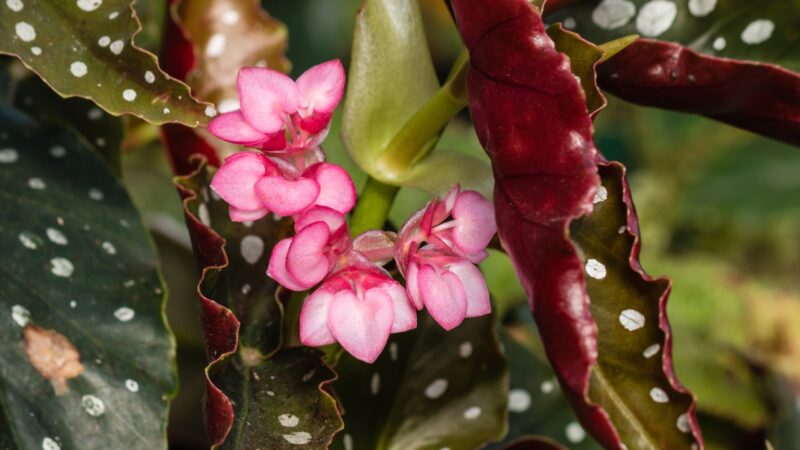 On rare occasions, bud sports can develop as a result of mutations that occur in the shoots. These "sports" have different genetic traits than the rest of the plants and may affect fruits, bloom time, plant structure, foliage color and shape, and other plant traits.
Since propagating begonias involve vegetative methods, you may be required to extract a significant amount of plant material, which could be a problem if you only have a small population of parent plants.
Fungal diseases are a commonly observed issue when the plant material receives not enough or too much humidity.
List of Sources
Begonia – https://hgic.clemson.edu/factsheet/begonia/
A Beginner's Guide to Begonias: Vegetative Propagation – https://edis.ifas.ufl.edu/publication/EP621
Plant Propagation by Leaf, Cane, and Root Cuttings – https://cceoneida.com/resources/plant-propagation-by-leaf-cane-root-cuttings
Plant Propagation by Stem Cuttings – https://content.ces.ncsu.edu/plant-propagation-by-stem-cuttings-instructions-for-the-home-gardener