Lavenders are famously known for their fresh and aromatic floral scent. It comes in varying shades of purple, blue, pink, and white, making them a great addition to your gardens. Fortunately, they can also be grown in pots and containers both indoors and outdoors!
To grow and care for lavender in pots, plant them through seeds, cuttings, air layering, or transplants in dry, slightly alkaline, and well-drained soils under full sun, ideally with temperatures between 45°F to 70°F. Water weekly until they become established and repot every spring into a larger container.
This article provides you with everything you need to know about growing and caring for lavender plants in pots and other interesting information. Simply read further this article for more!
Can You Grow Lavender in a Pot?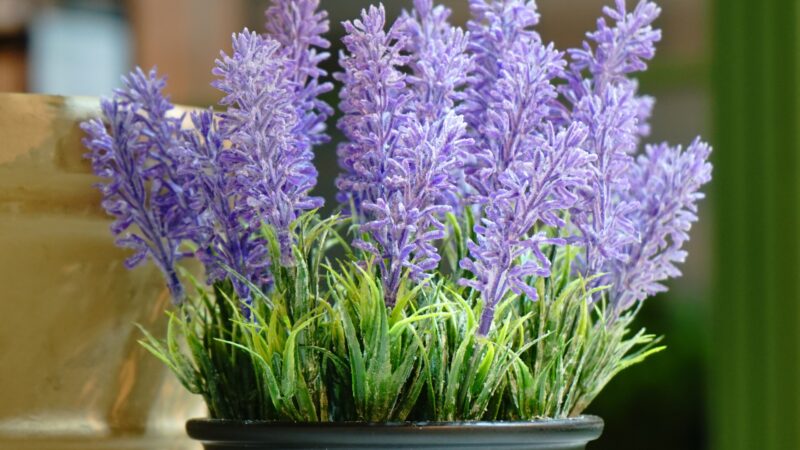 Lavenders are usually grown in pots and other containers as either an annual or perennial, as long as they are incorporated into the sterile, high-quality potting soil mix.
Homeowners and gardeners use them as ornamental or landscape plants, but they are also used for the extraction of their fragrant essential oils and culinary purposes.
When Is the Best Time to Plant Lavender in Pots?
It depends on your planting or propagating method:
Planting lavender from seeds: Sow them indoors about 8 to 10 weeks before the last frost date in your location, which is usually before the spring season begins.
Using transplants: Do so in the spring after the dangers of the last frost have passed or in the fall season.
Propagating through cuttings: Do so after the plant blooms.
Air layering: You can plant at any time of the year.
How Fast Does Lavender in Pots Grow?
Seed germination usually starts within 14 to 21 days, depending on the temperature and soil conditions. However, if they are planted using cuttings, roots begin formation within 30 to 40 days.
Lavenders are slow growers, which means it may take a total of 1 to 3 months to reach a size that's big enough for transplanting.
What Lavender Varieties Are Good for Pots?
English Lavender (Lavandula angustifolia)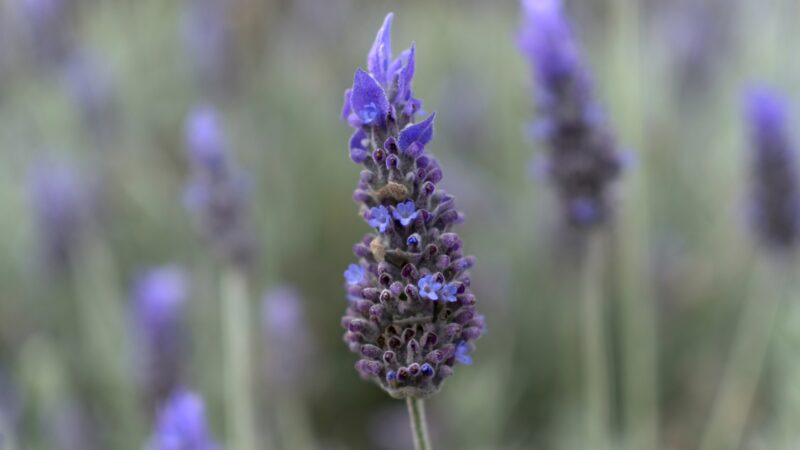 | | | |
| --- | --- | --- |
| Cultivar | Size | Characteristics |
| 'Hidcote' | 1 to 2 feet | Very dark purple-colored flowers even when dried, small bluish-green leaves, and long-lasting scent |
| 'Irene Doyle' | 1.5 to 2.5 feet | Light blue flowers, excellent aroma, and a prolific bloomer, which is why it's also called 'Two Seasons' |
| 'Jean Davis' / 'Rosea' | 1 to 1.5 feet | Pale lavender to mauve pink flowers and dwarfed size |
| 'Munstead' | 1 to 2 feet | Medium blue flowers, very fragrant, retains color even when dried, compact size, and is one of the hardiest cultivars |
French Lavender (Lavandula stoechas)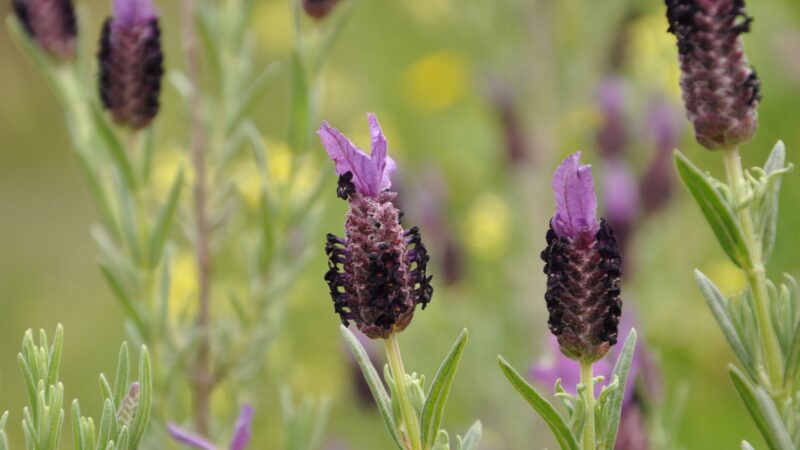 | | | |
| --- | --- | --- |
| Cultivar | Size | Characteristics |
| 'Anouk' | 2 to 2.5 feet | Dark plum flowers, bright white-gray or silver foliage, and prolific bloomers |
| 'Ballerina' | 1 to 1.5 feet | White flowers that fade to pink and purple, highly aromatic, and silver-colored foliage |
| 'Kew Red' | 1 to 2 feet | Ruby red flowers with pink ears, aromatic silvery foliage, blooms early, and has shorter stems than most varieties |
| 'Regal Splendour' | 2 to 2.5 feet | Violet-blue flowers, bright green foliage, and frequent rebloomer |
| 'With Love' | 1 to 1.5 feet | Cerise-crimson flowers, consistent bloomer, and silver-colored foliage |
Lavender Hybrids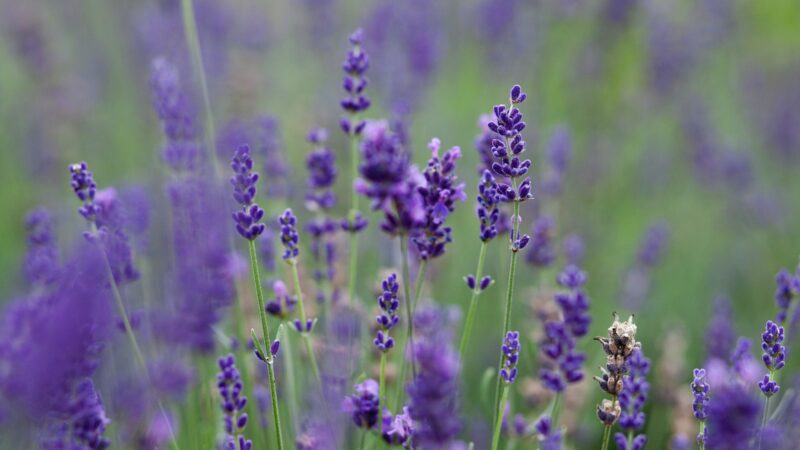 | | | |
| --- | --- | --- |
| Cultivar | Size | Characteristics |
| 'Fred Boutin' | 2 to 3 feet | Violet blue flowers with tall stems, sweet fragrance, and silver-gray foliage |
| 'Grosso' | 2 to 3 feet | Large dark purple flowers, one of the most fragrant cultivars even when dried, and produces a considerable amount of oil |
| 'Provence' | 2.5 to 3 feet | Large lavender-blue flowers, great scent, popular source of oil, and a prolific bloomer |
| 'Goodwin Creek Grey' | 2 to 3 feet | Intense purple flowers known for its finely-toothed, silver leaves and large flower spikes |
| 'Hidcote Giant' | 2 to 2.5 feet | Dark lavender blue flowers, very fragrant, and a vigorous grower |
Best Pots and Containers for Growing Lavender
Lavenders need pots and containers made out of the following porous materials:
Unglazed ceramic. These absorb water the best but are not hardy to winter since they can freeze and then crack. It is best to let the lavender plants overwinter indoors when planted in containers made out of these materials.
Sale
Terracotta. This is unglazed clay, which provides plants with ventilation, allowing the soil to dry out evenly. Containers made out of this are generally cheap.
Sale
How to Grow Lavender in Pots?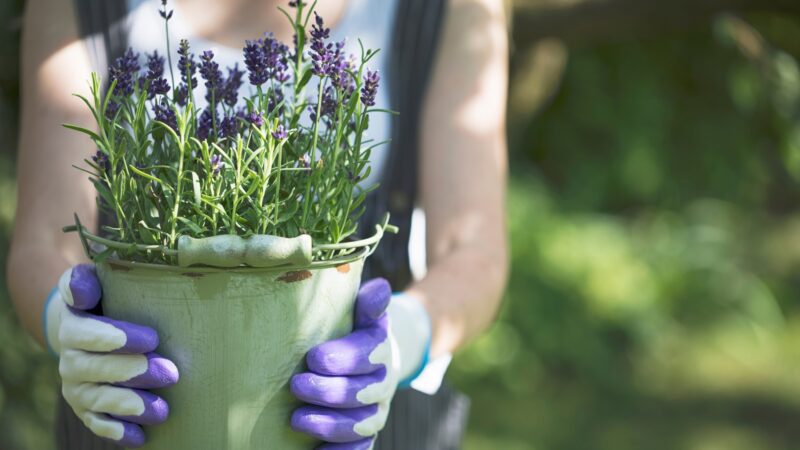 Prepare the soil by applying 1 inch of coarse compost onto the surface and incorporating it at a 4 to 8-inch depth. When planting in heavy soils, bark mulch should be added as an amendment to ensure good drainage.
Planting depends on the method you use:
When using seeds, sow them into an eighth of an inch into a soilless medium, then lightly cover the seeds with perlite.
When propagating from cuttings, dip the end of the cutting in the rooting hormone before inserting them into moist, potting soil.
When transplanting, place them into aerated, gravelly soil and add mulch, especially if you plant during the fall.
Water once or twice a week using 1 gallon of water per plant until they are established. Once the plants mature, water half a gallon every 2 weeks.
If you have already added compost to the soil when it was first planted, you don't need to use any supplemental fertilizer in the first year of the plant. In succeeding years, apply a slow-release fertilizer.
Use landscape fabric to control weeds from establishing. Light mulching can also work.
Prune annually after the plant has been established. Do so when green leaves start to sprout from the base of the plant, specifically during the spring season. Use pruning shears or a sickle to cut the stems.
Lastly, harvest after you have successfully pruned the lavender plant and when the flowers begin to open. Do so in the morning after all the dew has evaporated.
How to Care For Lavender in Pots?
Sunlight
Lavenders thrive in full sunlight exposure, which makes USDA Zones 5 to 10 climates suitable for growing lavenders. When growing indoors, they should be positioned accordingly, so they can receive bright sunlight for at least 8 hours a day for optimum growth.
Water
If you live in hot areas, watering should be done frequently to encourage productivity. Generally, 1 gallon of water per plant weekly is necessary until they are fully established.
Once they mature, they would only require half a gallon of water every 2 weeks to promote the formation of flower buds. During the flowering season, water 1 or 2 times a week.
Watering during the winter season will also help increase the survival rate of your lavender plants. In places with low humidity, drip irrigation and overhead watering will work well. Observe regular misting on the leaves and flowers.
Temperature and Humidity
Lavenders generally prefer a temperature between 45°F to 70°F. Specifically, ideal temperatures should be 70°F during the day and 50°F to 55°F at night from spring through the middle of fall while late fall to winter temperatures should be 60°F to 65°F during the day and 45°F to 50°F at night.
Additionally, lavenders are not able to tolerate excessive humidity. They prefer hot, dry weather and lots of sun exposure.
Soil
Lavenders grow best in dry, sandy, slightly alkaline, well-drained soils that are low in fertility. When planting in heavy soils, it may need to be amended before planting to ensure good drainage of excess water.
On the other hand, the use of potting soil or horticultural vermiculite is recommended when propagating. Avoid planting in sites with soggy or saturated soil.
Fertilizer
Lavender plants do not have particular nutritional needs. If the compost was incorporated into the soil at the time of planting, you don't need to add any more fertilizer during its first year.
In the succeeding years, however, you have to apply 1 tablespoon of slow-release fertilizer per plant or use it as directed on the product label.
Potting and Repotting
As mentioned, place lavender inside unglazed ceramic or terracotta pots and containers for the best results. Make sure to repot every spring season into a larger-sized container with new and fresh potting soil mix, preferably coarse added with organic fertilizer once the plants have matured.
How to Care For Lavender in Pots During Winter?
Make sure you have placed the plants inside a large pot or container so that the root system will successfully survive through winter. Increase watering in this season, as well since the root zone shouldn't be allowed to dry out. Place a fabric row cover to protect the plants from heavy snow and wind.
How to Prune Lavender in Pots?
Lavenders respond pretty well to pruning. In fact, it must be done every year after flowering, particularly when green leaves start emerging from the base of the plant.
Use pruning shears or a sickle to cut the stem to half its size to promote new, bushier growth. This will also extend the lifespan of the plant and improve productivity.
Common Problems With Lavender in Pots
Weeds. Lavender plants are not competitive against weeds, which is why controlling the latter is important, even in container planting. The use of landscape fabric or light mulches such as gravel and bark can reduce weed establishment.
Soil Diseases. Phytophthora is a common soil disease experienced by lavenders.
Pests. Grasshoppers can reduce both the flowering and oil yield of lavender plants. They may not kill the plant, but they are a significant nuisance.
Yellow or Brown Foliage. This is caused by overwatering the plants or planting them in waterlogged, saturated, or soggy soil.
List of Sources
Lavender – http://www.gardening.cornell.edu/homegardening
All About Lavender – https://ucanr.edu/sites/EDC_Master_Gardeners
Lavender – https://plantvillage.psu.edu/topics/lavender
Lavender: History, Taxonomy, and Production – https://newcropsorganics.ces.ncsu.edu/herb/lavender-history-taxonomy-and-production/