Onions are popular for making dishes more flavorful and aromatic. Because of that, it's one of the most cultivated vegetables around the world.
Without a doubt, onions are a staple in kitchens everywhere. With that said, have you ever seen a sprouted onion? And on a related note, did you know you can plant it to make more onions?
To plant a sprouted onion, you start by removing the outer layers of the onion, especially if these layers have already become mushy. Once you reach the core, you can split it into the number of shots. Then, plant them in soil, water them once a week, and make sure it's placed where it gets direct sunlight.
In this article, you'll be given a step-by-step guide on how to plant a sprouted onion. You'll also be introduced to tips and tricks to ensure the healthy growth of your onions from sprouts. So if you're curious about planting your sprouted onions, then read on for more information.
Can You Plant Onions That Have Sprouted?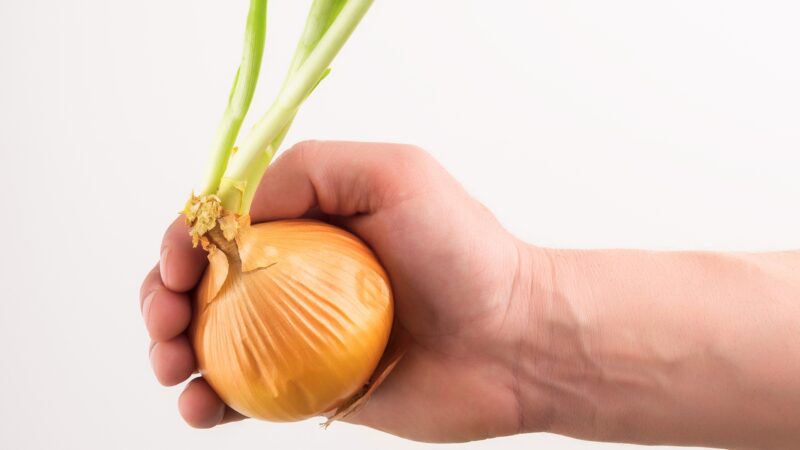 You can plant onions that have sprouted. If you notice your onions growing roots and green sprouts, don't throw them out just yet.
Instead, you can plant them in containers or gardens to grow more onions. As long as you take good care of the new onion plants, you'll surely grow new bulbs to use for your kitchen.
Why Do Onions Sprout?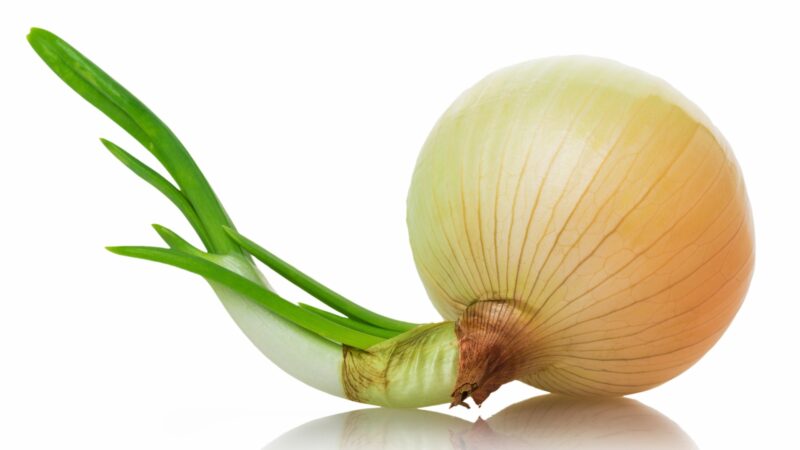 Onions sprout because it's simply part of their natural process. When they are mature enough, they will begin to sprout into a new plant. However, the biggest reason why they sprout is the moisture content around them.
Onions, like all plants, have biological sensors that help them detect moisture. And when it does, it triggers them to grow roots and sprouts because it's time to grow. This is also because onions grow during the spring when the moisture content in the air is usually high.
When Onions Sprout?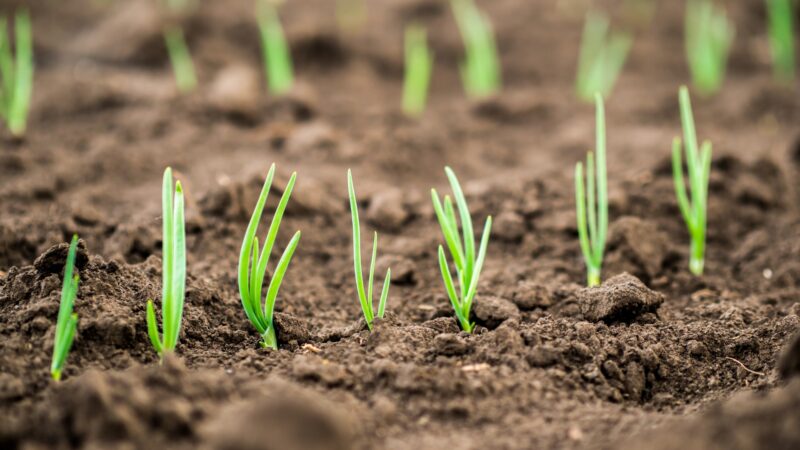 Onions usually sprout during the spring. This is because onions sprout when they can detect high moisture content in the air. However, the moisture in the air alone won't be enough to help it grow. It should still be watered and given direct sunlight to thrive.
How Long Does It Take for Onions to Sprout?
As long as the temperature and humidity are ideal, an onion will end up developing sprouts within six to 12 days. However, if it is stored in a cool and dry place with little to no humidity, the onion's sprouting may be delayed up to 25 days.
How to Plant a Sprouted Onion? | Step by Step Guide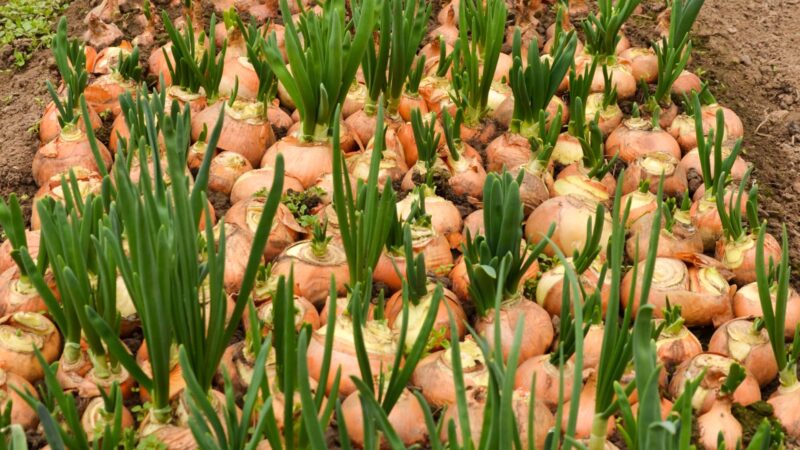 Step 1: The first step is to peel the outer layers of the onion. By the time the onions already start sprouting, the outer layer will already start to rot, making them mushy. The reason why you have to peel off the outer layer is that they might cause the entire bulb to rot once it's already planted.
Step 2: Once you reach the center, you will be able to see where the sprouts are growing. Depending on the number of growths present, you should separate them to ensure their growth as separate plants. With a serrated knife like the OXO Good Grips 5-in Serrated Utility Knife simply separate the shoots by cutting vertically without damaging the roots.
Step 3: At this point, you now have separate shoots that are ready for planting. It is advised to plant them in a container or planter like the Premium High-Density Plastic Planter that's spacious enough for each bulb to grow freely. To do so, simply plant the sprouts about one-inch deep into the soil and about four inches away from each other.
Step 4: Finally, place the planter in an area where the sprouts will be getting at least 12 hours of direct sunlight per day. You should also make sure to give it enough water once a week. However, during hot and dry days, or when the soil already looks dry, then you may proceed to water it more frequently.
All it takes is these four steps to plant your sprouted onion. Within 60 to 80 days, your new onions will be ready. To know when it's ready, the bulb will start to become visible from the soil – and you can simply pull out to harvest.
Tips for Planting Sprouted Onions
To ensure the growth of large, healthy onion bulbs, here are some tips that you should consider:
Don't hesitate to use potting mix or fertilizer for your onions. While natural compost is the best fertilizer for your onions, you may also try some store-bought fertilizers like Jobe's 06328 Bone Meal Fertilizer Spikes which are specifically formulated for vegetables and bulbs.
Onions prefer soil that's capable of retaining good amounts of moisture but still well-draining. Thus, loam soil is the best for growing onions from sprouts.
Onions prefer soil that's slightly acidic. The ideal pH level for growing onions is somewhere between 6.0 and 7.0 because it helps break down nutrients faster. As a result, they will be able to absorb them faster.
Onions need a lot of sunlight to grow. If they're not getting 12 hours of direct sunlight per day, an alternative would be to place them under grow lights like the GooingTop LED Grow Light for 12 hours.
If you notice grass or weeds growing around your onions, you should remove them as soon as possible. These weeds will steal the nutrients from the plants, so your onion bulbs won't be getting enough to grow.
Onions are known to rot quickly. The key is preventing fungal growth. That's why it's recommended to spray it with an organic fungicide like the Safer Brand 5182-6 Neem Oil Concentrate Insecticide.
Is It Safe to Eat Sprouted Onions?
It is still safe to eat sprouted onions. If you notice that the onions in your pantry have already sprouted, you don't have to throw them away just yet. This is especially true if the bulb itself has not yet started to rot.
In this case, you can peel away some of the outer layers because these may have already started to become mushy. Then, simply chop the upper and lower parts of the bulb which have grown roots and shoots. Then, you may prepare your onion-like usual.
How to Make Onions Sprout Faster?
If you're interested in sprouting your onions, then the key to making them sprout faster is to make sure that it is placed where it's warm and humid. Onions thrive in temperatures ranging between 70 to 85 degrees Fahrenheit and humidity levels between 85 to 95 degrees Fahrenheit. By doing so, the onions will surely sprout within a few days.
Another technique to consider is to place the onion in a container or jar with half a cup of water. This way, the moisture from the water around it will make the onion sprout new roots faster.
What to Do With Sprouted Onions?
There are two things that you can do with sprouted onions: cook them or plant them. If you cook them, make sure to chop away the roots and sprout. You should also get rid of the outer layers that have already become mushy.
In the case of planting them, make sure to peel all the external layers until you reach the center of the bulb with the growth. Divide them equally and then plant them four inches apart. With enough water and direct sunlight, you're sure to grow healthy new onions with a single sprouted onion.
List of Sources
Onion – https://vric.ucdavis.edu/pdf/onion.pdf
Growing onions in home gardens – https://extension.umn.edu/vegetables/growing-onions
Onion – https://plantvillage.psu.edu/topics/onion/infos
Onion Production Guide – https://extension.uga.edu/publications/detail.html?number=B1198&title=onion-production-guide