The potato is quite a popular superfood. Aside from being packed with nutrients and minerals, potatoes are also versatile. Whether baked, fried, or cooked in a stew, you'll surely enjoy eating them in every meal.
With that said, wouldn't it be great to grow potatoes in containers in your own home? Lucky for you, this article will show you how to do it.
The key is to plant the potatoes in a large container and fill it with sandy well-draining soil. Potatoes also need a lot of water and sunlight to grow. As long as you take these basic steps to heart in taking care of your potato plant, it will surely thrive – even when planted in containers.
To ensure success in growing your potatoes in containers, this article will also provide you with all the information you need. After reading, you will also learn which types of potatoes are ideal for growing in containers, and other planting techniques.
Can You Grow Potatoes in a Container?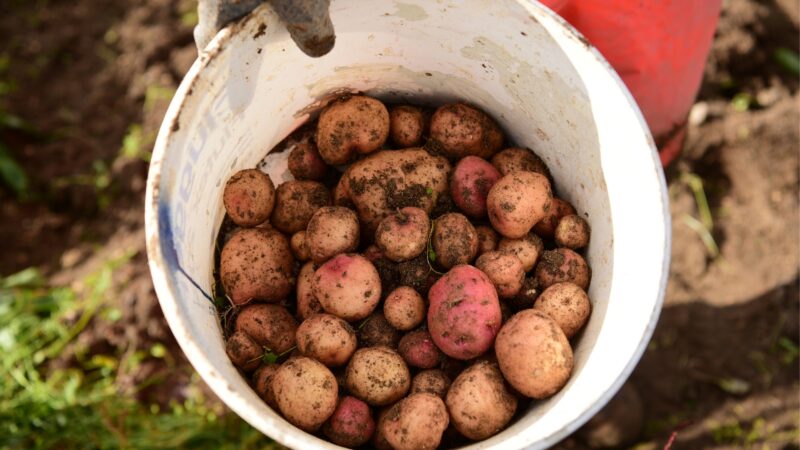 You can grow potatoes in a container. But before doing so, you should know that potatoes won't grow in just any container. It has to be deep enough for the root vegetable to grow and offer excellent drainage. Interestingly, it's also a convenient option for those who live in urban areas or those with small home gardens.
Benefits of Growing Potatoes in Containers
1. You can plant potatoes anywhere, as long as the conditions are ideal.
By planting potatoes in containers, you can grow them almost anywhere – whether in a garden, a greenhouse, inside your home or even in your office. That is, given that the temperature, humidity, and lighting conditions are ideal.
2. Growing potatoes in containers also ensure mobility.
When you plant them directly on your garden bed, you won't be able to move them around in case of harsh weather. But when you plant them in containers, you can move them indoors during harsh weather conditions such as severe rainstorms. This reduces the risk of stunted growth or early uprooting of your plants due to poor outdoor conditions.
3. You can plant potatoes at any time or season.
Similarly, planting potatoes in containers will ensure their growth all year round. While potatoes grow better during the warmer seasons of spring and summer, you can also grow them during chilly autumn and freezing winter days.
This is because you can move the containers indoors and adjust the room temperature to the potato plant's ideal settings. You can also invest in a grow light like the VIVOSUN VS2000 LED Grow Light to ensure their growth even when indoors.
4. The risk for soil-borne diseases is reduced.
When you plant your potatoes directly in the garden bed, they might get exposed to fungal growth and other diseases present in the soil, if any. But if you decide to plant it inside containers, you can always use new soil every time, and that reduces the risk of soil-borne diseases.
5. You can water the potatoes efficiently.
When watering potatoes in containers, you're only using the right amount of water that the plant needs. This is as opposed to those planted in soil beds, where you would usually use more water since water is immediately dispersed throughout the entire soil bed – even when only a few potatoes are planted.
6. Potatoes are easier to harvest in containers.
Once harvest season comes, you can simply dump the containers in a wheelbarrow so you can easily pick the potatoes. In contrast, planting them directly onto the soil bed requires you to dig around the plant itself.
Not only is it more tiresome, but it also takes more time. And at times, the shovel might even damage some of the potatoes. Thus, planting them in containers makes harvesting a breeze.
Types of Potatoes Ideal for Growing in Containers
All potatoes may be planted in containers. The key is to find a container that's deep enough to allow the potatoes to grow in the soil. However, smaller varieties are best grown in containers, like fingerling and red potatoes.
Fingerling potatoes. The most common potato variety to be grown in containers are fingerling potatoes. These potatoes are usually short and slender, making them ideal for growing in containers. At most, an 18-inch container will be big enough to ensure their full growth.
Red potatoes. Another small potato variety that can be grown in containers is red potatoes. Named for their bright-colored exterior, these potatoes are slightly smaller than the average potato. As such, growing them in containers won't be a problem – as long as it's given enough sunlight and water.
How Many Potatoes Can I Plant in a Container?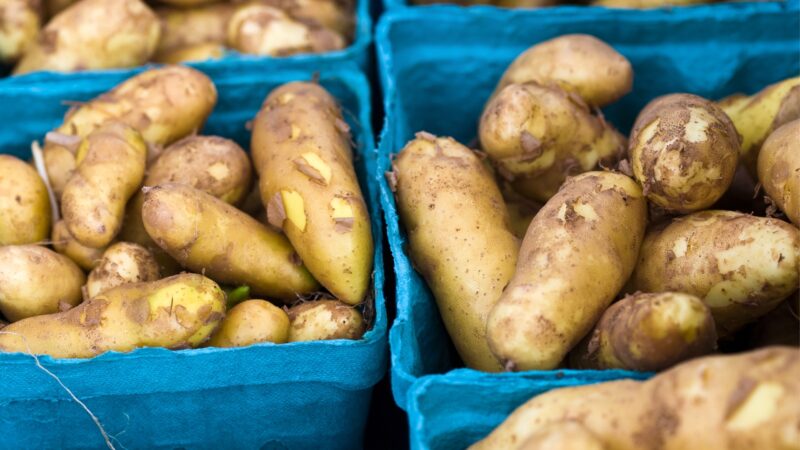 The number of potatoes you can plant in a single container depends on the size of the container. Ideally, potatoes need a lot of vertical space to grow their roots.
For an average 10-gallon planter, you can grow two plants. For a 20-gallon container like the Gardzen 10-Pack 20-Gallon Grow Bags, you can grow around three to four plants.
How Deep to Plant Potatoes in Containers?
Potatoes need soil that's at least 14 inches deep, so a container that can hold that much soil is preferred. As earlier discussed, potatoes need a lot of vertical space.
Ideally, you have to plant them four inches deep from the top layer of soil. This will give the roots enough space below to grow while the seed potato can still get quick access to water and sunlight. This allows it to grow faster.
When to Plant Potatoes in Containers?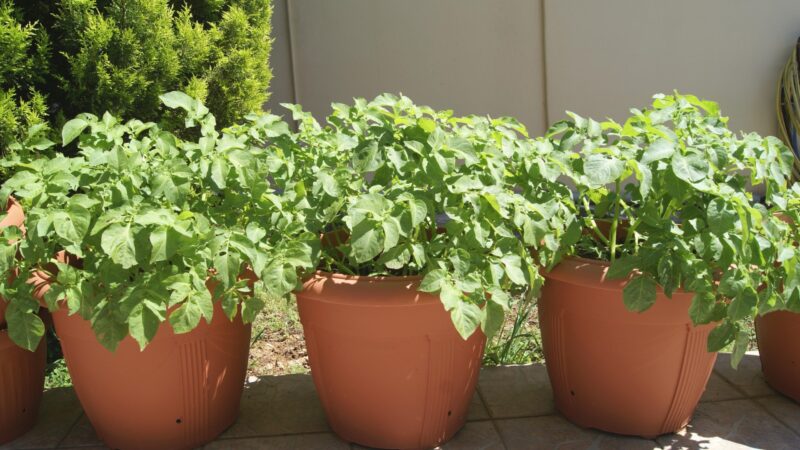 You can plant potatoes in containers all year round. However, it is the preferred option when growing potatoes during the autumn and winter months.
Potatoes do not do well when it's cold, so gardeners and farmers traditionally prefer to plant them once the frost season has passed. Thanks to containers, it is possible to plant them during the cold months since these containers can be placed indoors where they can adjust the temperatures accordingly.
How Long to Grow Sweet Potatoes in Containers?
Sweet potatoes take around 100 days to grow before they become ready for harvest. That is, as long as the temperature stays at around 50°F and it gets watered every day. Otherwise, it might grow at a slower pace if it is not given the best care.
How Often Do You Water Potatoes in Containers?
Potatoes need an inch of water per week to stay hydrated. However, the soil in containers is known to dry up faster than in gardens, so you might want to water them with two inches of water per week.
But, if you notice the soil looking dry, especially during a heatwave, you may have to water them more often than usual to keep them from becoming dehydrated.
What You'll Need in Planting Potatoes in a Container?
1. A large, deep container. A good potato container should be spacious enough to grow the potatoes. It should also be well-draining to make sure that the water won't soak the roots. A good option to consider is the OTT POT Grow Bags, which are made of woven fabric and are specifically designed for growing root crops.
2. Loam soil. Aside from a well-draining container, you should also use soil that's well-draining. Thus, the ideal soil to consider is loam. Make sure to have enough to fill the container. Also, the pH level of the soil should be slightly acidic to ensure the flourishing growth of your potatoes.
3. Seed potato. You'll be needing the seed potato of your chosen variety. As earlier discussed, you can plant any potato variety in containers, as long as the latter is big enough for that variety.
4. Garden tools. To help you prepare the soil and plant your potatoes, you will need gardening tools like trowels, hand rakes, and weeders. You may opt to buy them individually or purchase one that comes in a set, like the Chryztal Garden Tool Set. Just make sure all of these tools are clean before using them on your potatoes.
5. Fertilizer. You will need a balanced fertilizer like the Burpee Natural Purpose Granular 4-Lb Organic Food to provide added nutrition for your plant. However, this is optional, especially if the soil you're using is already quite fertile.
Growing Potatoes In Containers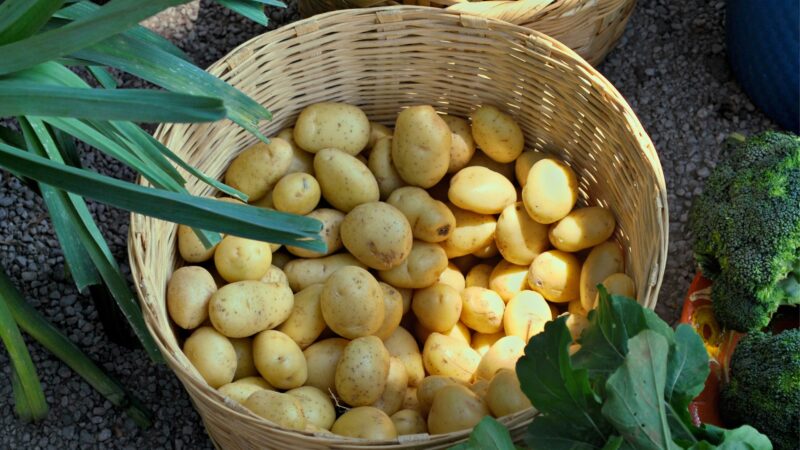 Container Size
To ensure ideal conditions for your potatoes, you need a large and deep container to plant them in. At a minimum, you may opt for a 10-gallon container that's at least 16 inches tall. This will comfortably fit a small potato plant. But as a rule, the larger the container, the larger the potato variety you can grow – and the more potatoes it can produce.
Drainage
Aside from the size of the container, you should also look into how well it drains water from the soil. While potato loves being watered, they shouldn't be soaked.
If the potato roots are soaked in water, the excess moisture becomes a breeding ground for fungal growth. And in turn, that can lead to diseases that will ultimately lead to rotting. Thus, look for a container that's well draining before you proceed with planting potatoes.
Soil
On a related note, potatoes need well-draining soil. With that said, the preferred type of soil is loam.
Also, make sure to use slightly acidic soil. A pH level ranging between 6.0 and 6.5 is ideal for growing potatoes since this level of acidity helps break down the nutrients and minerals in the soil faster.
Watering
Potatoes love getting water. You should water your potatoes with one to two inches of water every week to keep them healthy and hydrated. But if you notice the soil looking dry, you may proceed to water them more frequently.
Fertilizer
While potatoes do not need fertilizers to grow, you may feed them some to supplement what they get from the soil. A balanced organic fertilizer would be ideal, although you may also opt for a high-phosphorus or high-potassium option – especially if the nitrogen content in the soil is already high.
Light & Temperature
Potatoes love sunlight. They need at least six hours of direct sunlight per day, so make sure you place the container in an area that doesn't have any shade. Also, the ideal temperature should be between 65 to 70°F to keep the leaves from becoming too dry or frozen.
How to Grow Potatoes in Containers?
Step 1: The first step is to fill your container with the soil and fertilizer or potting mix of your choice. If you're using potting mix or fertilizer, make sure to mix everything thoroughly with a hand rake.
Step 2: Once the container is filled with soil, dig a hole that's around four inches deep. Make sure the hold is big enough to fit the seed potato. Also, if the container is big enough to fit multiple plants, make sure to dig holes six inches apart to give each plant enough space to grow.
Step 3: After digging the hole or holes, you can now place the seed potatoes. After placing them in the respective holes, you can bury them in the soil.
Step 4: Now that the seed potatoes are buried, proceed to water them with enough water to keep the soil moist. Then, place the container where it will get direct sunlight for at least six hours per day.
Step 5: Finally, observe your plant regularly. Bear in mind that the soil dries up faster in containers, so if you notice it becoming dry, you should water your potatoes immediately. Otherwise, the usual schedule is giving them one to two inches of water per week. Given the right care, water, sunlight, and environmental conditions, your potatoes are ready for harvest in about three months.
Related: How to Plant Potatoes? | A Complete Guide
List of Sources
Potatoes are Easy and Fun to Grow in Containers – https://ucanr.edu/blogs/blogcore/postdetail.cfm?postnum=9648
Growing Potatoes in Home Gardens – https://extension.umn.edu/vegetables/growing-potatoes
A Guide to Growing Potatoes In Your Home Garden – https://www.canr.msu.edu/uploads/files/growingpotatoes.pdf
What Is the Best Way to Grow Potatoes in Containers? – https://extension.unh.edu/blog/2020/03/what-best-way-grow-potatoes-containers