Pineapples are perfect during the summer. Its juicy flesh and sweet yet tangy flavor make it a refreshing treat.
It's also packed with vitamins and minerals, so you know that it's quite healthy, too. Fortunately, growing pineapples can be easy – as long as you keep the tops from your store-bought pineapples.
You can grow pineapples by slicing off an inch below the last cluster of leaves and allowing it to dry for a while. Once dried, you can plant it in coarse soil and wait eight weeks for the roots to grow. With proper care, water, and sunlight, you'll have a healthy plant that will soon grow its pineapple fruit.
To make sure your pineapple plant would grow healthy, it needs to be placed in an environment that's conducive to its growth. And one of the most crucial is identifying where to plant it – since its mature leaves can grow up to five feet long! That alone is a testament that you need a lot of space for your pineapples to grow.
If you want to know more about plantain from pineapple tops and how to take care of them, read on for the information you need.
Can You Grow a Pineapple Top?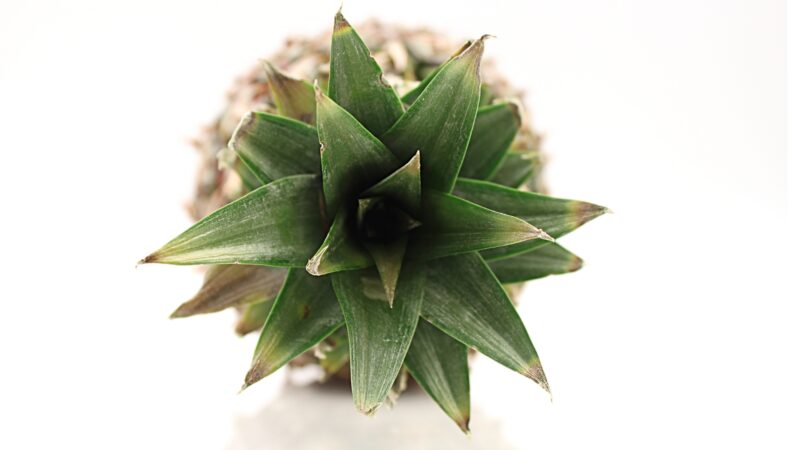 You can grow a pineapple from its top. Otherwise known as the pineapple crown, growing a pineapple from it is perhaps the easiest way to propagate this plant. 
As long as the pineapple top is given great care and placed in the right environment, it will surely thrive over time. If you're patient enough, you may even be rewarded with a delicious pineapple that's usually mature enough in two to three years.
How Long to Grow Pineapple From Top?
Propagating a pineapple plant from its top will take around two years or more. The planted crown will grow new roots in five to eight months, after which it becomes established in the soil and starts its life as a new plant.
It would take another 24 months or so to flower continuously and grow fruit. With that in mind, there's no denying that pineapples are slow-growing plants.
How Big Does a Pineapple Plant Get?
On average, a pineapple can grow five feet wide and four feet tall. With that said, there's no denying that pineapples need a lot of space to grow. A single leaf can grow up to five feet long, while the plant itself can grow up to six feet tall.
So if you're considering planting pineapples, know that they need at least five feet of space between each other to grow to their fullest. Otherwise, it will feel suffocated and may take a while to grow.
How to Take Care of Pineapple Tops?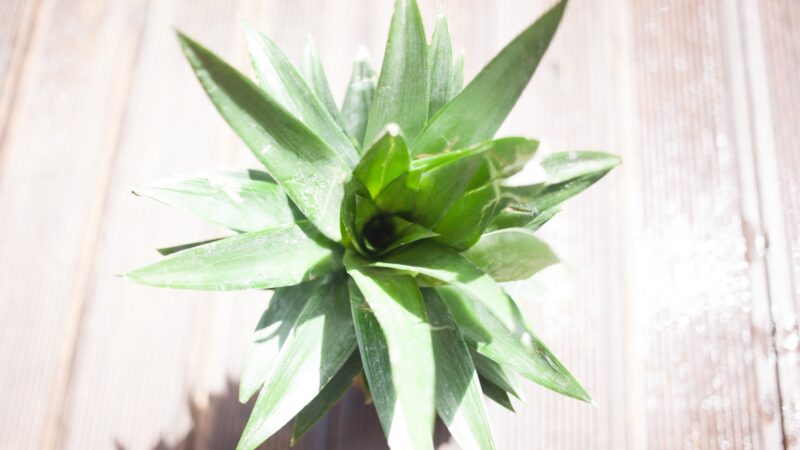 Lighting
Pineapples are tropical plants. They prefer direct exposure to bright light to grow fast and healthy. With that said, it's best to plant them where they get direct access to sunlight for at least five hours per day.
Water
Pineapples are quite drought-resistant. It's in their nature as tropical plants prefer dry sandy soil over loam or clay. Nevertheless, they still need water to help the roots absorb the nutrients in the soil.
With that said, they need minimal watering. Light showering will give them enough water to last for a week. As a rule, you should only water your pineapple plant when the top layer of soil appears dry.
Temperature and Humidity
Another factor to consider in growing your pineapple is that it has to be planted in an area that's warm and humid. Specifically, pineapple plants prefer temperatures ranging between 65 to 90°F.
They likewise prefer air moisture content ranging between 40 to 60%. If the temperature and humidity levels fall below the ideal range, then your plant may not survive – especially if it is exposed for prolonged periods.
Soil
To thrive, pineapple plants need fast-draining soil that easily stays dry. Preferably, they need sandy soil or any other highly porous soil. You may also mix it with some perlite, like the Miracle-Gro Perlite, to help strengthen its root system as it grows.
As much as possible, avoid using loam soil or clay, as these are quite dense. These types of soil also tend to retain moisture, and that will only soak up the roots and lead to root rot.
Fertilizer
While pineapples can grow without the need for fertilizer, you can also feed them once in a while to give them a boost of nutrients. It is best to use a balanced fertilizer that's not too strong.
One with a nutrient ratio of 20-20-20, like the ENVY Professional Grade All-Purpose Plant Food, is a good fertilizer to try. As much as possible, only feed your pineapple plant with fertilizer once every two months to keep its roots from being burned.
Potting and Repotting
When it comes to planting pineapples, the size of the pot is essential to its growth. If it is planted in a pot that's too small, its roots will feel restricted, and that might cause stunted growth. Additionally, you will need a pot with draining holes to help keep the soil moist but not soaked.
When you're propagating from pineapple tops, it's best to start with a six or eight-inch pot. As your plant grows, you may have to move it into a larger pot.
A five-gallon container like the Ogrmar 5-Gallon Durable Nursery Pot will give your new pineapple plant enough space to grow while also offering great drainage to keep the plant from being soaked. You can likewise plant your pineapple directly onto your garden soil to make sure it gets enough space.
How to Grow a Pineapple From Tops | A Step-By-Step Guide
Propagation is the process of reproducing a plant. For pineapples, you can easily propagate the plant through its tops. This refers to the crown of leafy growth at the top of the pineapple – hence the name.
There are two ways to propagate a pineapple from its top. This refers to propagation in water and propagation in soil. These methods will be discussed in detail below.
How to Root Pineapple in Water?
Step 1: To root a pineapple in water, the first step is to separate the top from the flesh of the pineapple. But in doing so, make sure to cut an inch below the last leaf of the crown.
Step 2: Now that you have separated the crown, you should also trim the excess fruit flesh from the stem. The excess fruit may attract pests, and the retained moisture may cause the crown to rot. That's why it's important to take away the excess.
Step 3: Once you have the excess removed, you can now place the pineapple top into a jar with water. It is recommended to use a clear jar that allows you to observe if the roots have sprouted. Place the jar in a warm place where it will get medium and indirect sunlight.
Step 4: It is recommended to change the water once a week to keep it clean.
Step 5: Observe your pineapple top regularly. In around two to five weeks, it will grow roots.
Step 6: Once the roots look established and well-formed, you can now transplant your young pineapple plant into coarse soil. As much as possible, use an 8-inch pot with drainage holes to keep the roots from being soaked in water. The QCQHDU Plant Pot is a good option to consider to keep the soil well-draining.
How to Root Pineapple in Soil?
Step 1: The first step in rooting pineapple tops in the soil is similar to the first step in rooting the tops in water. Make sure to separate the crown from the fruit flesh by cutting an inch below the last layer of leaves.
Step 2: Once the crown is separated, clean the attached inch-long stem by removing the excess fruit flesh. This will keep it from attracting pests and rotting.
Step 3: Before planting it in the soil, leave the crown to dry for a day or two to remove any excess moisture.
Step 4: Once the top is dried, you can now plant it in an 8-inch pot with well-draining soil. You should place the planted pineapple top in an area where it gets indirect sunlight.
Step 5: Make sure to water the top regularly to keep the soil moist but not soaked. Showering the top once a week will suffice.
Step 6: In around six to eight weeks, the pineapple top will grow roots. And in a few weeks more, it will be established in the soil.
Step 7: Continue to observe the growth of your new pineapple plant. Once the leaves are big enough, you may transfer them to a bigger pot.
Common Issues With Pineapple Plant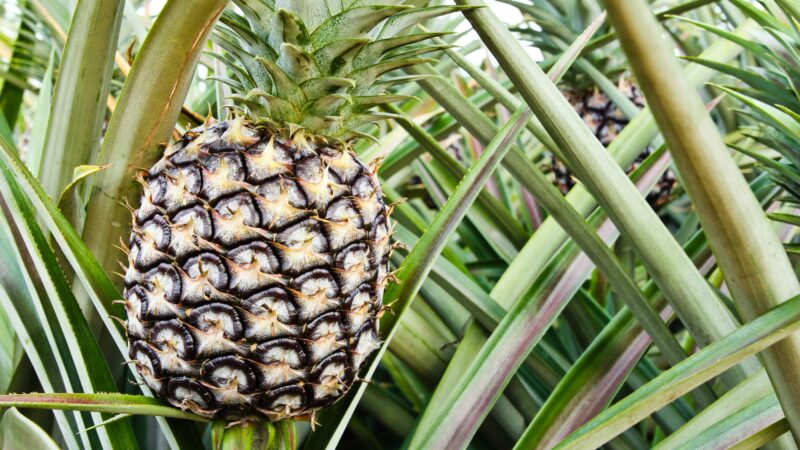 Interestingly, pineapple plants are considered hardy. Pineapples belong to the Bromeliaceae family of plants, known for their slow maturity and low-maintenance nature. However, they are not indestructible. Common problems with pineapple plants include overwatering, root rot, and pest infestations.
1. Overwatering
While pineapples are found anywhere in the world, they are tropical by origin. That means they grow better in dry and well-draining soil, as opposed to damp and soaked soil.
Thus, when a pineapple plant has been overwatered, you will notice its leaves looking yellow, mushy, and drooping. If you don't take immediate action to save your pineapple plant, it will die eventually.
Fortunately, it's easy to revive an overwatered pineapple. You simply have to remove it from its container and transfer it into a new one with dry sandy soil. Only use a pot with drainage holes to make sure the water drains completely.
If your pineapple is already large enough, you may opt to use a 5-gallon plant container like the Pro Cal HGPK5PHD Premium Nursery Pot.
2. Root rot
Aside from overwatering, pineapple plants are also susceptible to root rot. This usually takes place when the roots are soaked in water for prolonged periods. Unfortunately, rotten roots cannot absorb nutrients, and that will eventually lead to the pineapple plant's demise.
To remedy root rot, you should transfer the plant into a new pot with dry soil. But before doing so, make sure to carefully separate the damaged and rotten roots from the healthy ones.
You can do so with sharp gardening shears like the Gerossi Premium Bypass Pruning Shears to prevent making further damage to the plant. Also, make sure the shears are clean to keep them from contaminating the roots.
3. Pest Infestation
Because of their juicy fruit flesh, pineapples are especially attractive to pests like mealybugs. Unfortunately, these pests can cause great damage to your plant – including its fruit.
To get rid of these pests, the best solution is to spray them with an organic insecticide to kill the pests. The Handcraft Neem Oil – 100% Pure and Natural is based on neem oil, which can get rid of pets but is still safe for your pineapple plant.
Are Pineapple Plant Leaves Toxic to Cats and Dogs?
Pineapple plant leaves are not toxic to cats and dogs. However, these leaves are thick and tough, and some even have spikes at the edges.
Aside from being hard to digest, your pets may also get hurt if they try to play with pineapple leaves. With that said, while pineapple plants make great conversation starters for your home, it's best to keep them out of reach of your pets.
How to Protect Your Pineapple Plant From Animals?
Pineapples planted outdoors are easy targets to wild animals and rodents – especially considering their delicious and juicy flesh. To protect your pineapple plants, it's best to use a metal cage or cloche to keep the animals out.
You will need a large cloche made of sturdy materials that will keep animals away from all angles, like the Hydream Store Large Plant Protectors with Covers.
Can You Replant a Pineapple Top?
You can replant a pineapple top. Once the fruit has matured, simply cut an inch below the crown and remove all the excess flesh. After a day or two, you can replant it into coarse soil to allow the roots to grow.
However, you need patience in replanting a pineapple. While the roots may grow within a few weeks, it may take years for them to grow fruit.
List of Sources
Pineapple – https://gardeningsolutions.ifas.ufl.edu/plants/edibles/fruits/pineapples.html
Home Fruit Production – Pineapple – https://aggie-horticulture.tamu.edu/citrus/pineapple.htm
Grow Your Own Pineapple – https://blogs.extension.iastate.edu/answerline/2016/05/16/grow-your-own-pineapple/
Growing a Pineapple Houseplant – https://aces.nmsu.edu/ces/yard/1997/112497.html