Blooming in a variety of attractive colors, orchids are a diverse plant species that are a favorite and a must-have among gardening enthusiasts. Selecting the greatest pot and container is important in orchid gardening to ensure maximum growth and to provide the plants with ideal environmental conditions.
What are the best orchid pots and containers? The following is a list of great products:
Hobby Flower Adel Orchid Pot
Atri Ceramic Orchid Pot 5″
RePotme Fluted Ceramic 6″ Orchid Pot
Allen & Roth 8″ Orchid Pot With Saucer
Pennington Glazed Orchid Pot 4.75″
This informative guide will help you in choosing quality pots and containers for your orchids, the different types of pot materials used, and what pot and containers are the best for allowing orchids to reach their fullest blooming and growth capacities.
Orchid Pot Materials
To know which pot and container to use when planting orchids, you have to know the different materials comprising each to make sure they thrive and bloom as much as possible.
Here are four of the orchid pot materials that are commonly used:
Terra-Cotta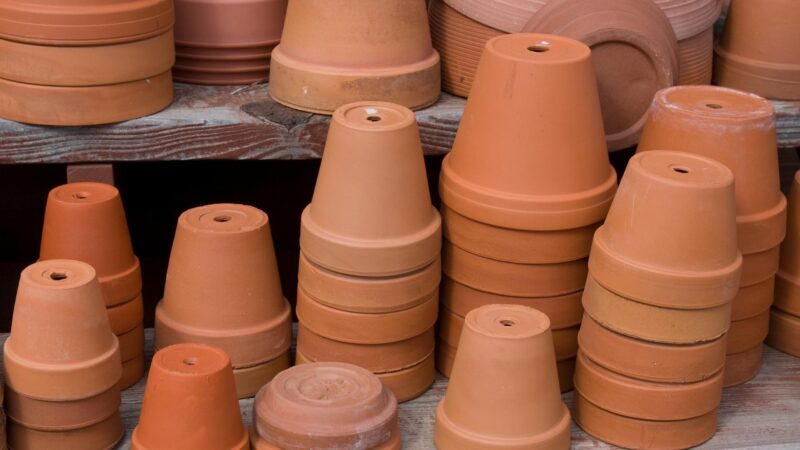 Terra-cotta pots are clay-based, usually using unglazed clay made of soil that is heated up in kilns. They're relatively heavy due to the hardened clay materials, which can withstand wind.
These pots also have decent levels of porosity that allow air and moisture to be absorbed by the plants and the ability to soak up excess water from the soil. 
Drainage trays should be placed when using terra-cotta pots to catch any water and moisture that "bleeds" through the plant. 
Plastic Pots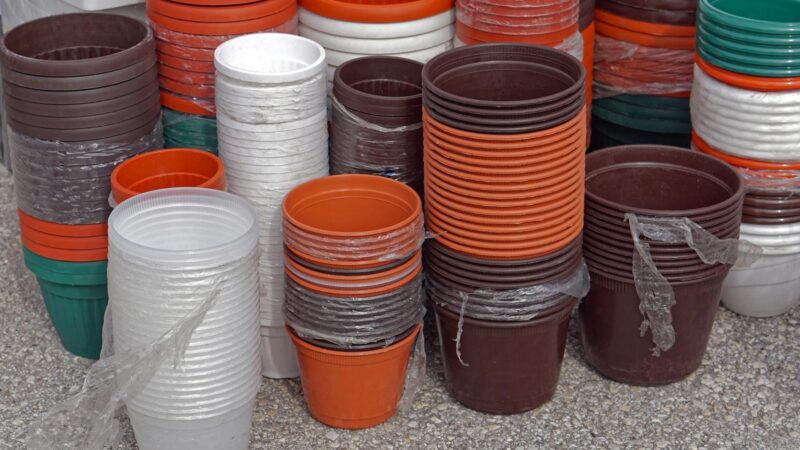 Plastic containers are a popular choice for orchids due to their flexibility and durability. They have thinner walls and are lightweight, especially if the plastic materials used are heavy-duty.
Most pots are made with sustainable plastic that can be recycled, so there's no environmental threat being imposed when using plastic pots. Plastic pots are also relatively cheaper compared to other materials.
However, they can fade and become brittle when the sun is harsh due to their lack of insulation capacity. 
Mesh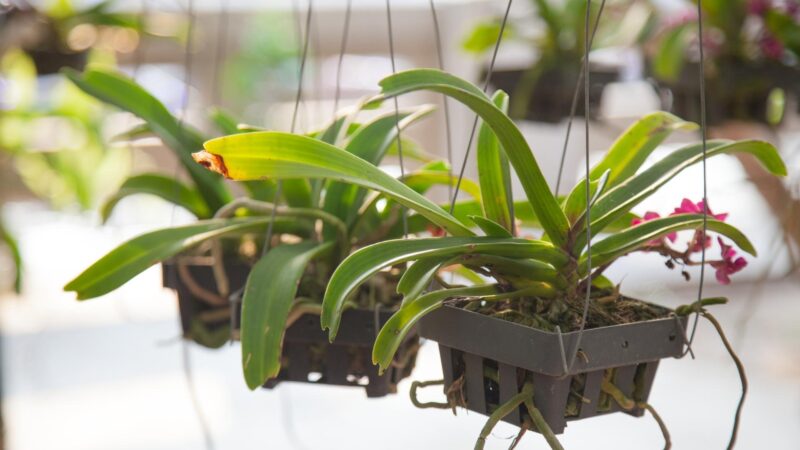 Frequently called net pots, mesh pots have a lid that you can open or close to seal the plants inside and add fertilizer pellets. Mesh pots are often hybrid pots that also use other materials, such as plastic.
Potting mixes are usually placed in the pots to facilitate the growth of flowers on the orchids. These pots are usually used for hydroponic gardening or the process of growing plants using little to no soil. 
Ceramic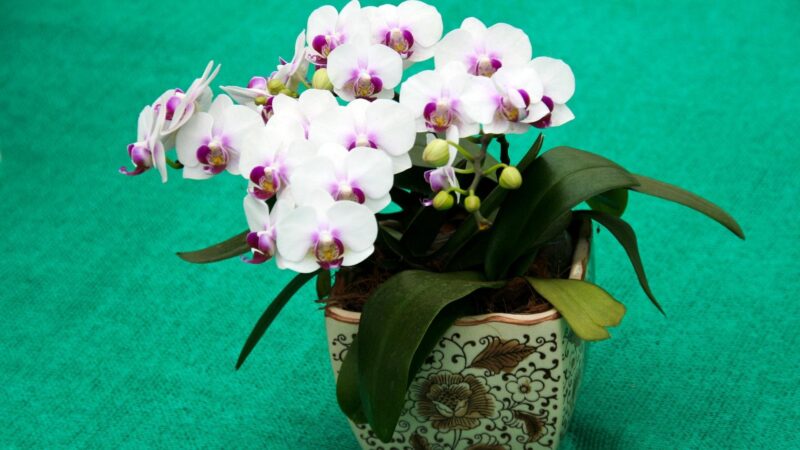 Ceramic pots are relatively expensive potting materials that have either naturally textured surfaces or glossy painted finishes. Unglazed ceramic pots are great at water absorption due to their porosity.
Using an excellent potting medium such as vetiver grass produces great orchid cultivation results, according to this study. Most ceramic pots also come with holes to promote drainage and detachable drainage trays, which are ideal for growing orchids. 
Best Ceramic Orchid Pots and Containers
This article has gathered five of the best ceramic orchid pots and containers that are great for orchid gardening:
This orchid pot is made out of polypropylene and polycarbonate, which makes the pot highly durable and resistant to breaking. It is also lightweight and has an automatic watering system, as long as you refill its external water container with the right amount of water.
The dimensions of the entire pot are 7.87 inches by 7.87 inches (20 cm by 20 cm), but its planting area inside is measured at 4.5 inches (11cm) wide and 5 inches (13 cm) tall. It is available in four colors: white, black, translucent, and aubergine.
A sophisticated-looking orchid pot made out of quality porcelain ceramic that comes with ventilation holes and a detachable saucer that does the following:
Drain out excess moisture.
Take in as much air as the plant needs.
Keep soil and moss content tightly packed inside the container.
It has a measurement of 5 inches (12.7 cm) by 5.25 inches (13.3 cm) at the top part, 4.25 inches (10.8 cm) at its base, and 5 inches (12.7 cm) overall height. It's a good choice for smaller-sized orchids.
The pot has two types of holes: slotted holes measuring .25 inches (0.6 cm) by 1 inch (2.5 cm) and round holes measuring .25 inches (0.6 cm).
This hand-crafted ceramic pot is perfect for growing orchids because it has a total of 46 slotted holes located on the sides, base, and interior. This pot has the most drainage capacity out of all RePotme products, which makes it the best choice for maximum ventilation and aeration of orchid roots.
The six-inch model comes with the following dimensions: 6 inches (15.2 cm) in width, 6 inches (15.2 cm) in height, and a planting area depth of 5.5 inches (14 cm). Clear, ivory, and even multi-colored, this ceramic orchid pot has 11 exciting colors to choose from.
Another visually-pleasing orchid pot in this list comes with a detachable saucer and precise clover-shaped holes to promote airflow, moisture drainage, and improve overall plant health.
Keep in mind that the holes are relatively larger compared to other pots. For this, you would need a plastic liner or moss to keep the potting mix safe and intact.
Its dimensions are 8.27 inches (21 cm) in depth, 8.27 inches (21 cm) in width, and 6.81 inches (17.2 cm) in height. The pot only comes in white color but it looks highly sophisticated.
Add an extra flair of elegance to your gardens using this orchid pot that comes with diamond-shaped holes for allowing enough oxygen into the roots while simultaneously clearing out excess water.
This pot better suits smaller-sized orchids, and it comes in charcoal, coral, ivory, yellow, and pearl color variations with a metallic finish. It measures 4.75 inches (12 cm) deep, 4.75 inches (12 cm) wide, and 4.25 inches (10.1 cm) tall.
Do Orchids Do Well in Terracotta Pots?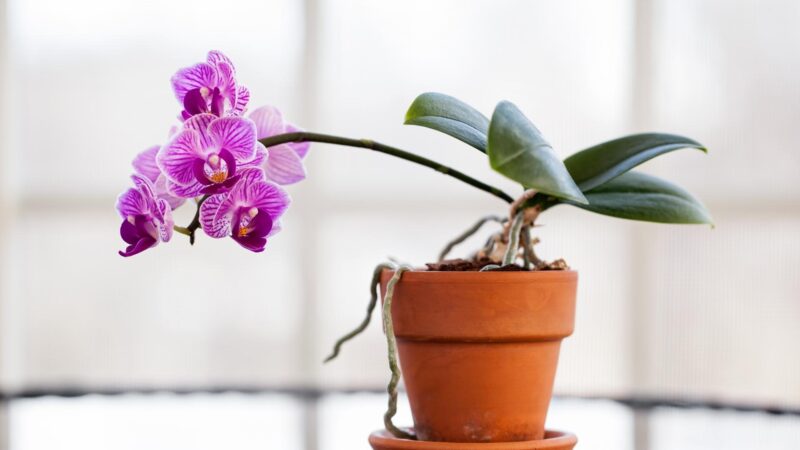 Orchids do well in terracotta pots. Orchids that need to be placed in well-aerated soils, such as Cattleya and Dendrobium orchids, grow well in terra-cotta pots, especially when charcoal is used as a potting medium.
Terracotta pots also allow the orchids to take in more oxygen. Salt leftovers will be present on top of the plant or pot, but it's nothing a little water couldn't fix.
Do Orchids Prefer Glass Pots?
Orchids do not necessarily prefer glass pots. However, it is a decent material for promoting orchid growth as most glass pots have ridges built onto them for drainage.
Fiberglass pots are extremely sturdy against various environmental conditions. It is typically for commercially-grown orchids. The only problem is that it costs more compared to other pots and is widely available through designer outlets and catalogs.
Do Orchids Like Wooden Baskets?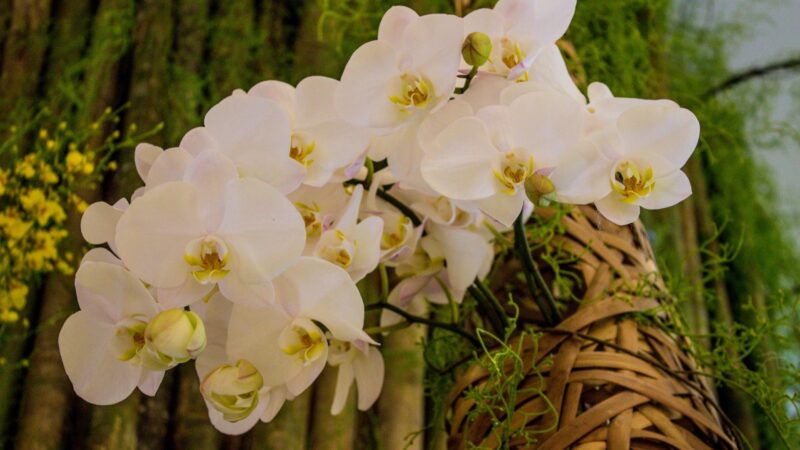 Orchids do like wooden baskets. They are decent materials for growing orchids, especially for those species that are grown outside, such as Vandas and Ascocendas. 
They are commonly lined using a non-porous material due to avoid the risk of staining and rot when the wood gets too soaked with water. 
Are Clear Pots Better for Orchids?
Clear pots are better for orchids. It is ideal for orchid growth, not just because gardeners can monitor root conditions and moisture content, but because these pots capture light from the sun better, making photosynthesis possible.
A 2005 study shows how the roots of Phalaenopsis orchids grow better in clear plastic pots compared to opaque pots. This is because of the translucence provided by clear pots.
Why Are Orchids in See-Through Pots?
Roots tend to avoid darkness and naturally seek light from the sun to survive and grow. They grow better in see-through or clear pots that have access to adequate sunlight.
Summary
Choosing the right pot and container is important when growing orchids, especially knowing what material promotes maximum growth and flower yield.
The best orchid pots and containers on the market are made from ceramic materials. It comes with drainage holes and trays to avoid excess moisture content. Clear plastic, terra-cotta, and wooden pots are also suitable containers for orchids. Glass pots are sturdy but not preferred by orchids.
List of Sources
How to Fertilise Your Orchids the Easy Way